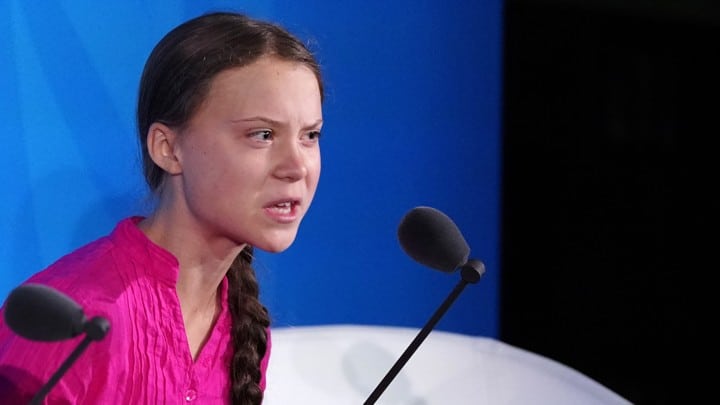 Does anyone else get the feeling that Greta Thunberg either needs to go home and get back to school? Liam McGuire of ScreenRant isn't likely to be counted among those that do and there are quite a few that tend to think that Greta being written into a DC comic as one of the many standing against Darkseid and the Joker as they attempt to push a very Trump-esque candidate for governor. While Trump and Greta's names aren't mentioned in the comic, The Dark Knight Returns: The Golden Child, it's a little too obvious for many that the likenesses are being used and the message is a little too clear. Sigh. Is anyone else tired of this? The fact that Greta Thunberg has been named Time's Person of the Year is a good indication that a lot of people are grasping at straws and pinning their hopes on the next generation to make sense of a world that many people have gladly absconded from since their sense of reality has taken a serious backseat to the more logical and rational thinking that used to be so dominant.
Some folks might actually be wondering how I can say such things, but it's kind of simple really. The 'end of the world' scenarios, in which climate change is currently able to be lumped, have been coming about for a long, long time now, as Jaime Trosper of Futurism would agree. And it might be that we're overdue for a natural catastrophe, and it might even be that humanity has contributed to our own eventual downfall, but if Greta and anyone chewing about the climate change has been paying attention, and unfortunately it doesn't seem that they have, then they'd notice that the earth has a way of cleansing itself and rebooting every now and then with a calamity that has little to nothing to do with us. Sure, we might hasten the demise of our species, but what does the earth care? It will be here one way or another unless we actively seek to destroy it. I do recall on Facebook at one point someone telling me "Well if we shot a bunch of nukes at the core it would end, so how about that?"
Quite naturally I laughed because the individual wasn't getting the point. Unless we actively try to destroy the planet with malicious intent, it's going to shake off whatever we can do to it eventually and come back to a state of equilibrium that we may or may not be here to see. The end of the world scenarios that a lot of us can possibly remember in the past few decades would include the Y2K period when people thought that technology was going to fail and millions were going to die. Then came the arrival of 2012, the end of the Mayan calendar and the belief that the world would end. There's always talk of the San Andreas Fault slipping and sending California careening into the ocean, or a super volcano that might erupt at any moment, or tectonic plates shifting and killing millions.
Get it now? Is it becoming clearer? Climate change is a real thing, it does happen, but to think that we have that much of an impact on this world is arrogance beyond imagining. Sure we make our living conditions worse by our various waste output, there's no argument there. And yes it does affect the world around us in a visible way. But people thinking that Greta Thunberg is a visionary as the first and only person to bring this to light are unfortunately the same people that tend to think that humanity has a say in whether or not this world, as we know it, ends one way or another. Jake Novak of CNBC has something to say about this. It will happen at one point in our history, the world will shrug its shoulders and a large number of us will possibly cease to exist since the reset button that the world might hit, all on its own, will wipe out a great number of people in the process. It's funny to think that an upheaval of such magnitude, which is entirely possible and has happened according to geologists, could be caused by humanity. We're not quite that powerful people, but our arrogance seems to know no bounds.
As for Greta joining the DC universe, well, if they're trying to further divide the fan base they've found yet another way to do it, and in this case it might be best to call this an 'oopsie' and move on. Greta Thunberg isn't a worthy candidate to be mocked, if anything she's an unfortunate young woman that is very passionate about what she believes in but is being used as a tool, a lightning rod of sorts, for people whose arguments were up until then falling on deaf ears for a reason.