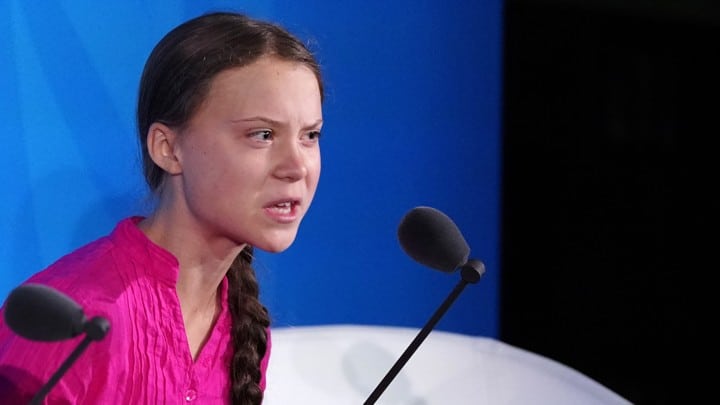 The media storm going on and on about Greta Thunberg, who has been called a Democrat shill and many, many other names throughout the short time she's been made famous for her controversial words and firm stance, has been insane to say the least. Whether they'll ever make a movie about her or not is hard to say, but if they did tomorrow then there are a few actresses that might be able to step into her shoes and be convincing enough to play the part, but it does seem as though more and more people would call this shameless and a shameful way to make fun of a young girl yet again. The only problem with such a statement is that this 'young girl' chose or was convinced to step into an adult forum where arrows, slings, and barbs aren't just expected, they're a way of life and are to be endured if not avoided at all costs. If those that encouraged her to come forward didn't want this it's safe to say that they might have been better off convincing her to continue her education and change the system she's railing at from within, without the media circus.
Here are five actresses that could play the part of Greta.
5. Bailee Madison
Given the fact that she's now in her 20s Bailee might be on the verge of being unable to play a part so young but also given her look it could still be possible. She's grown up in show business to be honest since she's played in Once Upon a Time, the TV series, and several other shows that people can possibly remember her from. It's hard to say much about young actors even if they've been around for a while since like Bailee a lot of them have proven that they have the talent but they're still fairly young and have a lot of growing up to do yet. But for a part like this it does seem that she'd still be qualified.
4. Sophia Lillis
Being that she's only a year older than Greta it does seem as though Sophia would be able to turn in a great performance as she's already done this with the movie IT, chapters 1 and 2, and has been seen to be quite capable of taking on a demanding and kind of tough project without flinching. She's been seen in other projects and is going to be starring in Gretel and Hansel in the coming year so it's fair to state that she's capable and of the right age to be viable for such a role for a while to come. That and that the fact that any resemblance of those on this list to Greta needs to be close would definitely include her.
3. Merit Leighton
The best part about some of these actresses is that they're of the right age, roughly, and are all well-established as actresses and have seen enough of show business to know that there are bound to be parts that might be more difficult than others. Merit has been a part of show business for a little while now and is likely still getting to know the ups and downs but after a while in the business it's still enough to think that she could possibly be coached or even just figure out how to do this on her own since she is a young woman and not a child any longer. That independent streak is definitely something that's needed for this role.
2. Kiernan Shipka
Another 20-year old that might be just about too old for any serious consideration, Kiernan would still be good for the part for a little while to come since she does look pretty young still and she has managed to take on roles that are fairly serious so does have that experience. Sometimes the experience of a slightly older individual that can be made to look young is preferable to someone that hasn't quite tackled a difficult part yet. In this manner Kiernan could probably take on this role without too much trouble and make it work if a very convincing way. Sometimes older people that look younger than what they are can be a little more convincing.
1. Ava Allen
Ava hasn't done a whole lot in her career but thinking on the idea of who Greta is and what she's acted like on screen at this point, it might work to the advantage of an actress to be as raw as possible and inexperienced so as to gain the actual vulnerability that Greta has shown. Some people might not like that, but then again they must not have thought this over when they put her in front of the cameras. At this point it's not a matter of picking on Greta in any way, but instead is about portraying her as accurately as possible.
It would likely be a very contested movie.