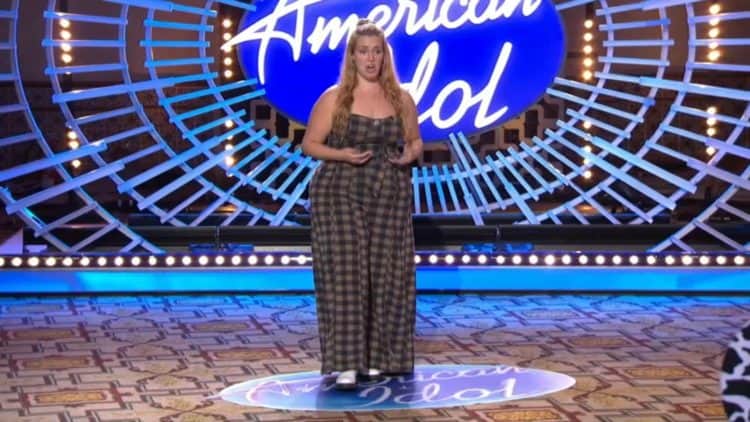 Anyone who has ever dreamed of accomplishing something big knows that taking risks just comes with the territory. 20-year-old Grace Kinstler recently took one of those risks when she stepped in front of the judges on American Idol to audition for a chance to make it to Hollywood. Grace's performance left the judges in tears and she earned her Golden Ticket to the next round. Grace's effortless vocal abilities will certainly come in handy as the competition progresses. We'll all have to continue watching to see how things go for Grace, but so far things are looking promising. Keep reading for 10 things you didn't know about Grace Kinstler from American Idol.
1. She Is A Katy Perry Fan
One of the coolest things about being in the entertainment industry is that you could one day get the chance to work alongside someone you've always admired. Although Grace hasn't technically gotten the chance to work with Katy Perry (yet), she has already performed in front of her. This was a huge moment for Grace seeing as how she's always been a Katy Perry fan.
2. She Is A Student At Berklee
Grace is currently a student at Berklee College of Music in Boston and she is schedule to graduate in 2022. She may have to adjust her timeline, however, depending on how far she makes it in the American Idol competition. Fellow contestant Anilee List is also a student at Berklee.
3. She Already Has A Large Social Media Following
Even though Grace is still in the early stages of her career, there are lots of people who have already fallen in love with her music. She has a large social media following that includes more than 36,000 people on Instagram alone. Being on the show will probably make that number even higher.
4. She Has Performed At A Bulls Game
Grace was born and raised in the Chicago area and has performed at venues and events all over the city. Most notably, she has gotten the chance to perform the national anthem at games for both the Chicago Bulls and the Chicago White Sox. Needless to say, she's no stranger to performing at large venues.
5. She Has A YouTube Channel
Instagram isn't the only place where Grace and her music have been getting a lot of attention. She is also fairly active on YouTube and has posted several videos of her performances. Grace's YouTube channel may have just over 1,800 subscribers, but it's already gotten nearly 140,000 total views.
6. She Has A Boyfriend
Grace is in a relationship with a man named Joseph Wheatley who is also a musician. It's unclear exactly how long they've been together but they appear to be going strong. Joseph is currently a student at Northeastern University in Boston and he is also set to graduate in 2022. Joseph is one of Grace's biggest fans and he has posted on Instagram to show his support for her.
7. Her Father Passed Away When She Was 19
Life is full of surprises and, unfortunately, they aren't always good ones. Grace learned this in one of the most tragic ways possible when her father suddenly passed away when she was just 19-years-old. Although the loss has been difficult to cope with, her father's memory has been the driving force behind Grace going after what she wants.
8. She Has Already Drawn Comparisons To Kelly Clarkson
Grace's voice has a level of power that many people weren't expecting, and she is able to belt out tunes with ease. After seeing her audition, lots of people have started comparing her to former American Idol, Kelly Clarkson. Anyone who has ever heard Kelly son would agree that Grace is in very good company.
9. She Has Released Lots Of Original Music
Grace has already put in a lot of work to lay the foundation for a successful career. She is also a songwriter and she has already released several songs of her own. In addition to singles, she has put out two EPs. Her first EP, Remember the People, was released in 2018 and her second, Lavender, was released in 2019.
10. She's Always Dreamed Of Being On American Idol
Like lots of other people her age, Grace grew up watching American Idol. Not only did she enjoy watching other people compete, but she dreamed that one day she'd get the chance to do it herself. Although she was nervous to audition, she pushed herself to take advantage of the opportunity and that decision seems to be paying off nicely for her. In just a few months, she may be able to watch her dream become a complete reality.