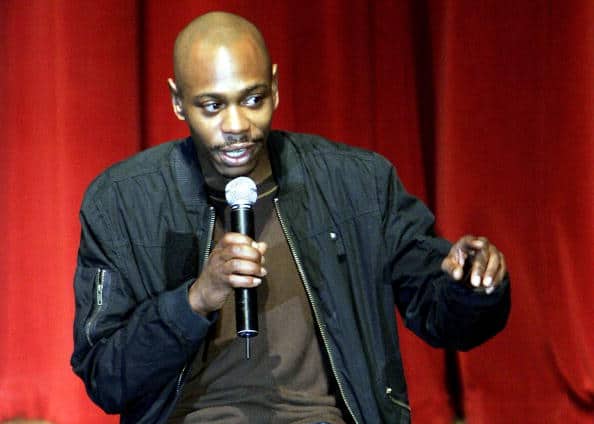 In 2003, the comedian came into the mainstream eye thanks to The Dave Chappelle Show on Comedy Central, which made fun of many aspects of American culture, notably racial stereotypes, politics, and pop culture. If you've heard your father shout, "I'm Rick James b****!" then you've likely heard of Dave Chappelle. The famous comedian wasn't afraid to touch on any subject, whether it was the infamous "Piss on You" R. Kelly song (which also got him beat up by R. Kelly himself) or the black KKK leader who happens to be blind, there was no subject off-limits to Mr. Chappelle. However, the comedian walked away from it all in 2005. This meant turning down a $50 million contract but the tremendous stress that Chappelle was under got the better of him. The show was gone but never forgotten as it's was Comedy Central's bread and butter for years following Chappelle's departure.
After mostly being out of the spotlight for nearly a decade, Dave Chappelle made his full-time return in 2013 and the comedian fired on all cylinders during his return comedy tour. Chappelle managed to strike a lucrative deal with Netflix, with his first four specials being well worth the money that Netflix had paid for. Then, Sticks & Stones happened. Instantly, the comedy special was trashed by critics as Chappelle made jokes on the Michael Jackson allegations, the Jussie Smollet situation, cancel culture, and the LGBT community. Many critics felt that the comedian was stuck in the early 2000s and that his brand of humor was no longer accepted in modern times. Melanie McFarland of Salon.com pretty much summed up how most critics felt about the latest Dave Chappelle special:
"On the whole, "Sticks & Stones" exists as a defiant design to intentionally offend large swaths of the audience Chappelle deems too thin-skinned and easily outraged, too quick to find offense while serving up simple, low-bar yucks to anyone yearning for validation of their anti-P.C. stance. Dave Chappelle has handed a different permission slip to Americans: one giving folks the green light to laugh at tragedies and, more to the point, the victims and survivors." Crazily enough, despite the abysmal 35% rotten tomatoes score for critics, audiences seemed to vastly differ in opinions, with the Sticks & Stones special having a strong 99% in terms of audiences. The comedy special even won three Primetime Emmys for Outstanding Variety Special, Outstanding Writing for a Variety Special, and Outstanding Directing for a Variety Special. So, what happened? Why does it seem that most critics absolutely hated the special, whereas nearly everyone had no issues with the jokes that Chappelle told?
Times have changed. we're now living in an era of cancel culture that wants things to be "politically correct". Unfortunately, that's the problem. I want to be clear first, I'm not attacking Melanie McFarland or any other critics that blasted the Dave Chappelle special. Just like I'm giving my opinion, they're simply stating theirs, and there's nothing wrong with that. However, one of the key issues I have is labeling Dave Chappelle's brand of comedy as a green light to laugh at tragedies, more so victims and survivors. I'm not gonna sit here and pretend that Chappelle didn't touch on difficult subjects. He did. In fact, he fearlessly dived into it. However, Dave Chappelle's jokes aren't mean-spirited affairs meant to undermine the seriousness of the said subject. Yes, there's some political commentary behind Chappelle's jokes. In fact, you could argue that his jokes regarding the Michael Jackson situation were a downright shot at the two accusers. However, the message behind it isn't to make fun of victims who have gone through sexual assault. Chappelle never victim blames or throws hate towards anyone who's ever dealt with such a situation. He's definitely crossed the line, there's no denying that fact.
However, trying to cancel a man who's only doing his job as a comedian is absurd. Dave Chappelle's jokes are just that, jokes. It's not a light-hearted way of bullying. Nor does it cause any emotional or physical harm. Jojo Rabbit is a comedic take on a war that's killed millions of people. Stanley Kubrick's Dr. Strangelove or: How I Learned To Stop Worrying And Love The Bomb is a satire about the cold war. Pulp Fiction has a rape scene that's played for a laugh. The point is that media and art are subjective. An artist shouldn't be canceled because he tells a few controversial jokes here or there. Dave Chappelle doesn't have any hate crimes against the LGBT community nor is there evidence that his brand of comedy is truly affecting the mental state of anyone who's heard his jokes. If you don't like any of Dave Chappelle's jokes then that's perfectly okay. This isn't an article trying to convince you to do so otherwise. As previously stated, art is subjective thus not everyone is going to like the same thing. Whether you like him or can't stand him, you should respect the fact that's he's willing to stand out from the crowd by tackling such serious subjects in a comedic light. Dave Chappelle's brand of comedy is perfectly fine in 2021. It's okay to let a comedian be a comedian, even if you don't find him or her funny.