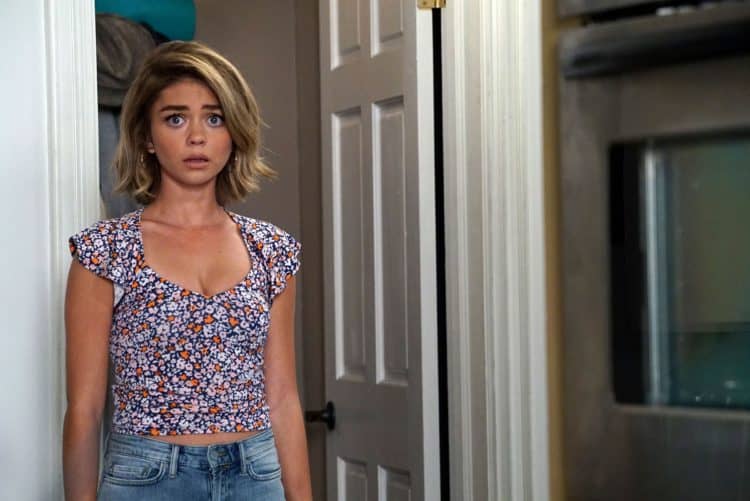 Of all the Dunphy children, the eldest, Hailey (Sarah Hyland), got in trouble the most. If she wasn't on her parents' bad side for drinking or attending parties, her love life was in shambles. Throughout the show, Hailey was a trainwreck waiting to happen, and the boys/men in her life did not make it any easier. Dylan was a constant, who Claire did not approve of, so much that she tried to set her daughter up with someone else. In the end, he was the last man standing, but not before Hailey tried other relationships. Here's a peek into her thrilling yet sometimes intoxicating love life:
1. Dylan Came Into Hailey's Life First
When we were first introduced to the Dunphys, Phil (Ty Burrell) and his family were gearing up to meet Dylan ( Reid Ewing). Phil identified as a cool dad and was quick to jump in on the latest slang. He even practiced High School Musical routines to fit in and thought he would blend with Dylan. Claire ( Julie Bowen) instructed Phil to scare Dylan, but he failed at it terribly. Hailey spent time in her room with Dylan, as her mother kept worrying about them. In a bid to prove his love for Hailey, Dylan eventually wooed her with an original song he had composed. Though 'In the Moonlight' threw Hailey's family off, the tune was a bit catchy and had everyone singing afterward. The relationship between Hailey and Dylan was her most solid one, but when they weren't together, she dated other people.
2. Claire Tried To Set Her Up With Ethan
You can trust Claire to have something up her sleeve in one way or another. As a mother, she did have a little say over Hailey's love life. Since Dylan was not good enough, she decided to set her daughter up with Ethan ( Matt Prokop). Ethan accompanied the family on a trip to Disneyland. Claire's dreams of having the pair link up were destroyed when Dylan, with whom Hailey had separated at the time, showed up. Dylan had been fired from a ranch in Wyoming and taken up a job at Disneyland. Claire kept making efforts to get Ethan and Hailey together with no luck, not knowing that Alex was eyeing him instead. In the end, Dylan and Hailey got back together.
3. She Went Out With Kenny To Get A Reaction From Her Parents
In an attempt to get a rise out of Claire and Phil, Hailey decided to go out with Kenny ( Jason Mantzoukas), who was way older than her. Kenny, a boutique jeans designer, walked in, and Claire was not happy to see how much older he looked. It took a while for Phil to realize what was happening; Hailey and Kenny were not just friends. Even though Kenny had brought him a pair of jeans that fit, his interest was in their daughter. Lucky for Claire and Phil, Hailey was only putting up an act. Claire remembered that back in the day she had done the same thing to her parents. She, therefore, decided to play along, and Phil did too. Hailey kept her act going until her parents let her leave with Kenny. She returned infuriated that they'd let her go away with a much older guy. Phil, who'd decided to go after Hailey, returned to tell Claire he was going to get his daughter, only for Hailey to hug him.
4. Andy Was The One That Got Away
When Hailey and Andy ( Adam DeVine) first met, she had never heard of the term 'manny' before. The concept of a male nanny seemed unfamiliar, and the only 'manny' she knew was her 'step-uncle'. They got off to a rocky start, with Andy's relationship with Beth ( Laura Ashley Samuel) coming in between. Andy and Beth had dated on and off for eight years, and when she broke up with him via text, he was determined to win her back. Despite clearly having feelings for Andy, Hailey kept denying that she liked him. When asked, both of them insisted that they were just friends. Andy didn't take all the hints Hailey sent his way and chose to propose to Beth, but he was startled along the way. In between, Haley had other love interests, most notably Dylan, who Claire was still not fond of. After many missed moments, Andy and Beth called it a day, and Hailey got the last laugh. Hailey told Andy he was the only man she had really loved. The love birds had to part ways when Andy moved to pursue his dream job, and never got back together.
5. Dr. Arvin Was Hailey's Smartest Boyfriend
While Claire and Phil did not really like Dylan as Hailey's boyfriend, Dr. Arvin (Chris Geere) checked all of their boxes. For once, Hailey brought somebody home who had a lot going in the intelligence department. In a rare twist of events, at the same time, Hailey's sister Alex ( Ariel Winter), who was the smart one, was dating a guy way below her IQ. Things took a different turn in the Hailey-Arvin camp when, upon learning that his mother was unexpectedly showing up for a meetup with Hailey, Dr. Arvin tried to alter what she did for a living to suit his mother's approval. Hailey did not take it kindly and stood up for herself ( something she rarely did). When it finally came down to choosing between the smart guy her parents loved and the man she loved, Hailey chose Dylan, who was trying to get his life together.
6. She Finally Had A Family With Dylan
Throughout Hailey's life, Dylan had a way of showing up, and Hailey made it clear that she'd always take him back. After choosing him over Dr. Arvin, it didn't take long before Hailey learned that she and Dylan were expecting a child. Hailey freaked out, given that her parents did not particularly like Dylan. He, on the other hand, was very calm about everything. Hailey and Dylan discovered they were expecting twins, much to her panic. The realities of raising two children got too real, too quick. Claire, who never thought Dylan was good enough, ironed out her differences with him. In the end, the couple got their happily-ever-after in the form of Mitch ( Jesse Tyler Ferguson) and Cam's ( Eric Stonestreet) old home.
Tell us what's wrong with this post? How could we improve it? :)
Let us improve this post!