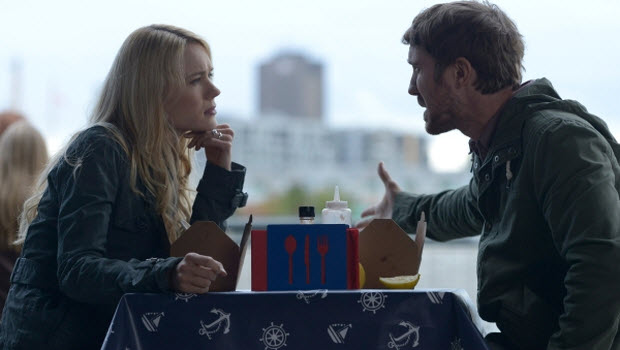 We have reached the midway mark for Being Human's fourth season with "Cheater of the Pack" handing us the most surprising episode yet.
Where "Pack It Up, Pack It In" saw Josh vehemently defending his mixed monster family, this episode had both wolves ready to move out of the apartment after Robbie Malik (guest star Jesse Rath) arrives with an eviction notice. All of this was a pretty devastating reveal as the core of this show is driven by the characters and their relationships with each other.
Along with the highly emotive nature of this season's storylines, the show has coated itself in a thick layer of re-haunts and foreshadowing. We saw Sally's fear of the wolfy couple moving away manifest, and minus Nora everyone has been grappling with the reemergence of people from both their distant and recent pasts. This includes Suzanna, Emily and Robbie, as well as the semi-returns of Bishop, Henry and Danny.
Motivations have also never been as blatant as they are in this season. Our perpetually flawed monsters have had to deal with their greatest fears – and biggest shortcomings – directly. Still, this time felt different somehow, like they were growing out of their troubling habits. That is until the last 10 minutes of "Cheater of the Pack" which were pretty shocking in a season that up until this point has been comfortably predictable.
Aidan has once again fallen off the bandwagon, but what makes this time noteworthy? The woman had an unsettling resemblance to Rebecca. This afforded us an interesting parallel as her body lay splayed on a bed with Aidan calling the funeral home for "help." While not entirely surprising, it was a bit odd considering his calculated decision to walk away from Kat last week. To make matters worse it happened after he and Suzanna made a deal that if he broke would have serious ramifications. There's also the fact that he caved an episode after his affecting conversation with Sally. It's almost as if the show enjoys twisting our arm when it comes to Aidan.
Speaking of our favorite ghost, Sally-who-swore-off-magic pulled out that crutch to help her and her friends keep the apartment. Where'd her time traveling magic land her this time? Back to when she and Danny first moved in. It was a moment I never thought we'd see on the show, but it was both interesting and painfully enlightening. Robbie saw Danny for what he was, but Danny's hold over Sally – coupled with her own desire to be happy – pushed her brother away. This week not only helped fill out Sally's backstory, but provided much more on-screen weight to her abusive relationship and her ghostly fate.
Another thing surely no one saw coming was Josh's wolf cheating. Despite this being totally out of character, it played right into his largest and most consistent fear: not being in control of his monster. The fight scene between the couple after Nora finds out was emotionally taxing, and the acting and writing were the best we've seen from and for Huntington and Hager in some time. The pure understanding these characters have of each other is really what makes this so difficult. This raises some questions though about the logistics of the nature of the wolf, as well as the hybrid versus full wolf. Did this happen because he was in the pack or because he was about to take a very big step with Nora?
Amid the mayhem we learned a bit more about Suzanna, including how much she knows about her ex-husband's recent history (a.k.a. a lot). This means we can add her to Aidan's list of perpetual life-stalkers. There is something that sets Suzanna apart from the other women of Aidan's past, however. Perhaps it's that she was married to his human self or that she knows him monster and out. It could also be that unlike the other (vampire) women, Suzanna reads as less co-dependent. This should alleviate Aidan's need to "protect her," and the problems that come with that. Should doesn't always translate to will.
While the episode was less dynamic than last week and up until the last 15 minutes felt more like filler, it's clear "Cheater of the Pack" is the season's turning point. What happens from here on out should only get more wild by the minute.
Funniest Moments:
This was moment was shared by all four of our main characters. As the love-wolfs return home to share that they're moving out, Sally and Aidan try to explain their plans for dissuading potential buyers. Between Sally's certain belief in her awesome lamp floating talents to Josh's Kool-Aid man reference, the scene was side-splittingly hilarious.
Shocking Moments:
It's hard to choose between Robbie's death and the creepy ghost girl in the closet, so we won't. (Sidenote: Could the lil' girl have something to do with his death?)
This show has always had a penchant for getting Aidan undressed, but his soiree with Suzanna still seemed a bit surprising considering the nature of their relationship up until now.
While Nora and Josh's relationship has never been a bed of roses, his cheating felt like it was so far out of left field that it might be a foul ball.
[Photo via Syfy]