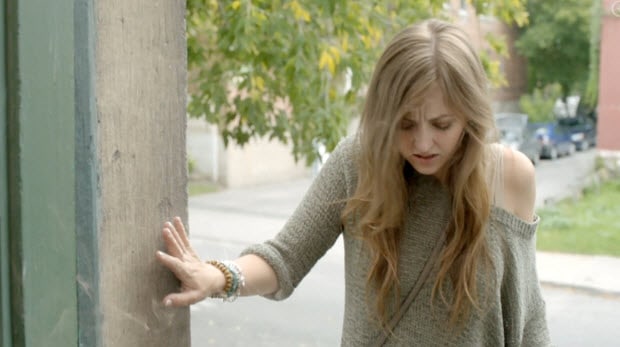 "That Time of The Month" was a decent follow up to a decidedly dark premiere for Being Human, leaving a better impression of the season to come than last week's opener.
It's pretty clear that Season 4 is the season of the wolf, but probably not in the way most of us had imagined. It's disheartening that the house's most earnest and vulnerable character has stumbled into a dark angsty alley. His physical appearance last episode was so drastically different from the character we've seen for three seasons that it was hard to know who was in front of you; the wolf or the man. On top of this, the episode only eked out a few fleeting moments where Josh wasn't intensely somber.
This continued into this week with Josh only managing to be human for about a third of the episode. However, his presence in the storyline didn't drastically change when he evolved from wolf to man. Even as a human he was uncomfortably silent. Something's clearly not right. Not only were his eyes a glow, but the closest thing we got to the house mother's former disposition was a few laughs in the bedroom with Sally. Sam Huntington managed to properly capture his character's essence though, and by the looks of it this will be the essential element to illustrating the internal (and external) struggle going on with Josh.
As for Nora, this episode used dialogue more effectively to capture her changes over the last three months. Nora wasn't one of the three original monsters, so there were times in the past that she felt like a fourth wheel. Turns out you need four wheels. Her development in this episode alone, going from wary and protective to dismissively joyish, helped make her one of the more dynamic presences on screen.
Instead of turning to Aidan, Nora went to Sally for help this week. Or rather, Sally came to her and she got a little help from the ghost with the most. When it comes to how much you can monster, Sally has her roomies beat by a mile. She's been a ghost, a reaper, a zombie and now apparently a witch(y apparition). Last week we watched her break free of Donna's grasp, but when she crossed over she created some kind of rift. Every time she performs magic, she travels in time.
If the past has taught us only one thing, it's that Sally and power spells nothing but bad news. There is an upside to this Sally Enchanted story. Not only does she have powers that can un-wolf her friends, but she's clearly a more confident version of herself. Sally's been through a lot over four years, making it hard to determine if her acquired nerve comes from a place of natural development or new abilities. It could be both. Unlike Josh's change, however, Sally's is more pleasing to watch — if only to counter the angst between the boys in the house.
Not only were we given a "new, better" Sally, viewers were provided a few wonderfully endearing moments between her and Josh. We haven't been privy to this in quite some time, making it all the more bittersweet. It's clear Josh's decision to revive Sally last season has had a lasting impact on her, despite the narrative's neglect in really showing it prior to this episode. This seems to be a nice new pairing continuation from the premiere where we were offered a few affectionate moments between Aidan and Nora.
Aidan's storyline picked up exactly where it left off last episode with Suzanna on the doorstep. With her arrival came Aidan's attempt to play catch up and perhaps rekindle their centuries old relationship. The interactions between the former wedded couple were filled with awkward silences and emotionally ambiguous facial expressions, particularly from Suzanna.
What we later learned through a series of flashbacks was how Suzanna had transcended time. Bishop. This is not a particularly shocking revelation, as Bishop's obsessive behavior when it comes to Aidan has lived on in the show long after his death. The circumstances, and purpose behind her transformation were, however, surprisingly tragic. Suzanna was turned as a means of placating Aidan in his new un-dead life without any regard for her own agency. To make it worse, she – in a fit of hunger – killed her own son.
She neglects to share this with Aidan, instead telling her former love that their son lived to be a grandfather. Aidan's got a long and messy history with women and things usually end in death. What's interesting about Suzanna in the short time that we've known her is her solemness. It's pretty clear she hasn't stopped torturing herself for something she did lifetimes ago, a headspace Aidan is fond of.
Kat is still obviously in the picture, but unlike his last minute (and predictable) grasping at normality with her, Suzanna is a change of pace. It seems pretty clear that women are going to be at the forefront of his storyline this season, so it would be nice for his past to come back to haunt him without repeating itself. Frankly, a meaty relationship arc for our favorite vampire that doesn't start out sweet and rapidly dive into sour would be interesting. It gets hard to see Aidan stumble around, caring and caring, to only end up alone again and again. Perhaps his struggle with Suzanna had focus much less on filling the holes and much more with moving on from them.
Ultimately the episode was strong, despite it's significantly darker tone (can this show get any darker?) and slow but steady pace. We moved out of the arc set-up for a few of our characters, while positioning others as a larger season focus. Josh's storyline will probably have the most emotional payoff in the near future, but Sally and Aidan's dilemmas could certainly create some satisfying drama down the line.
[Photo via Syfy]
Tell us what's wrong with this post? How could we improve it? :)
Let us improve this post!