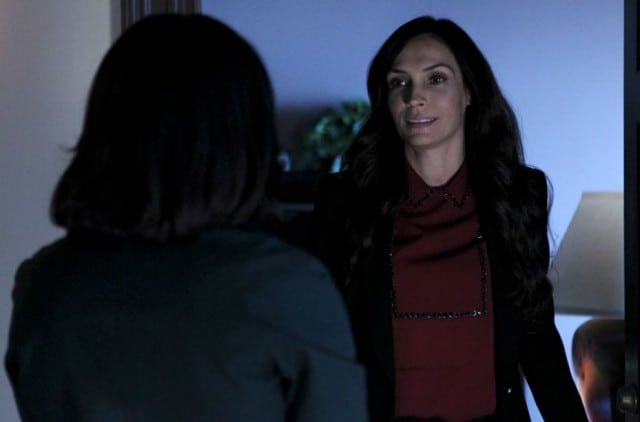 As we near the halfway point of an extremely solid season of How to Get Away With Murder, let's take a look at what happened in this week's episode, lovingly titled "I Want You to Die."
As usual, the episode opens in the future (but only FOUR DAYS FROM NOW) as the interns are working to leave the house of the siblings. We see that there's a bit of a split between them, and we also see that Wes is holding a gun (revealed to be that of Rebecca's foster brother from a few episodes back). The end of the episode also provides us with more context of the tragedy that will soon befall our characters, and I continue to be much more invested in this season's flash-forwards than I was a year ago.
While cleaning up his deceased wife's hospital room, Nate is served because of new evidence that's shown up after Nia's death. Annalise is also involved in the investigation, and they both go to Eve (played by the returning Famke Janssen) for help with the situation. Just as in the beginning of the season, Eve is an incredibly dynamic character that manages to add a new side to Annalise whenever they interact, and I'm always grateful to get more Janssen on my television.
We know that A.D.A. Sinclair has been working as hard as possible to take down Annalise, and that vendetta gets stronger and stronger in each episode. The fact that we're only four days away from her death now makes the impact of all of her scenes much more powerful, and it helps to show that the flash-forwards on How to Get Away With Murder are one of the show's strongest elements.
"I Want You to Die" does something that I really liked that I didn't know I wanted: Oliver is included in the interns' work. While brief, this leads to a fun little interaction between him and Annalise, and it's great getting him involved more heavily in a storyline. Oliver is such a likable character on this show, and, just like the season's done with Asher, I hope that we get even more character development and story from him in the second half of this season.
Speaking of Asher, he and Bonnie have some fantastic moments in this episode, continuing a string of strong development between these two. Out of the main cast, Bonnie and Asher were the two characters that got the least exploration during the first season of How to Get Away With Murder, and it's clear that the writers saw that and wanted to rectify the situation. It's always nice when weak elements on a show are able to improve during its run, and this development is a wonderful example.
"I Want You to Die" was yet another great episode of How to Get Away With Murder. We're finally getting to the point where all of the buildup and backstory from the first half of this season is going to start paying off, and I can't wait to see what comes next.
What did you think of "I Want You to Die"? What are your thoughts on all the reveals and secrets that we've gotten so far this season? Let us know your thoughts in the comments down below!
[Photo credit: John Fleenor/ABC]
Tell us what's wrong with this post? How could we improve it? :)
Let us improve this post!