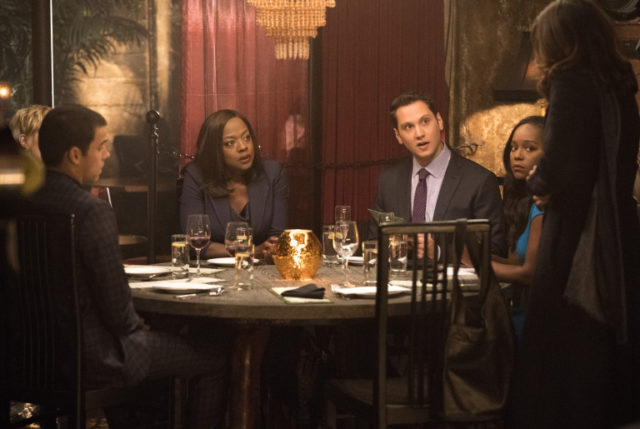 It's hard to believe that we've been getting away with murder for 4 seasons now with How to Get Away with Murder, the show that reminded us just how brilliant Viola Davis is. In the premiere of season 4, Viola's character Annalise Keating finally got her footing in dealing with the issues that surround Wes' death and everything else that is going on in her life. The season opener was full of clarity in a sense, seeing everyone tie out ends from the last season, but of course it wouldn't be the murder-mystery show that it is if we weren't dealing with either murder or mystery. Here are our top 5 moments from How to Get Away with Murder's season 4 premiere.
1. Annalise and Ophelia
Annalise flies to Memphis to see her mother, Ophelia, whom we know is suffering from dementia. Ophelia is much worse than the last time we saw her, but that's not what gets the lady upset. There are talks about putting her in a home, and she's not happy about it. They eventually have a heart-to-heart, something that signals us that things with Ophelia might go for worst this season.
2. Mattress Shopping
We love Asher and Michaela. The two have been going through a lot together, including last season's final episode confusion about whether Michaela felt the same way that Asher felt for her. Seeing them go mattress shopping together in the first episode probably means that they are ready to take it to the next level, but that may also mean some impending doom of things not working out later out. It was the most normal scene this show could ever have, but we know things don't always last like this on the show.
3. At the Bar
https://www.youtube.com/watch?v=DNOhJkGEmVI
We see Connor and Oliver at a gay bar, and we realize where each of their mental state is exactly not only about the marriage but with everything in general. There's a bachelorette party going on, and we see Connor and Oliver talk about why they should or should not get married. The scene is both funny and sad at the same time, and it might also hint about the growing differences between these two lovers, the one that might ultimately cause them to separate this season.
4. Laurel's Daddy Issues
Last season, we found out that Laurel's dad is involved with the crime and is working with Dominic to prevent Laurel from finding out. In the premiere, we learn that Laurel's father is back in her life, but we can't help but love her intuition and the way she's super suspicious of everything including Dominic's reappearance. She meets with her father on campus and their dialogue is the most unnatural thing there is. Trust your instinct, Laurel. Don't trust either of them.
5. The Denial
https://www.youtube.com/watch?v=7Ha0wOZ3WwE
Oliver is still waiting for an answer. Connor proposed to him last season in almost an abrupt way–not exactly romantic but more out of rushed necessity. In this episode, we see that Connor actually declines Oliver's marriage proposal not because he didn't love him but more because he believes they aren't ready. Connor still wants to marry Oliver, just not under the circumstances.