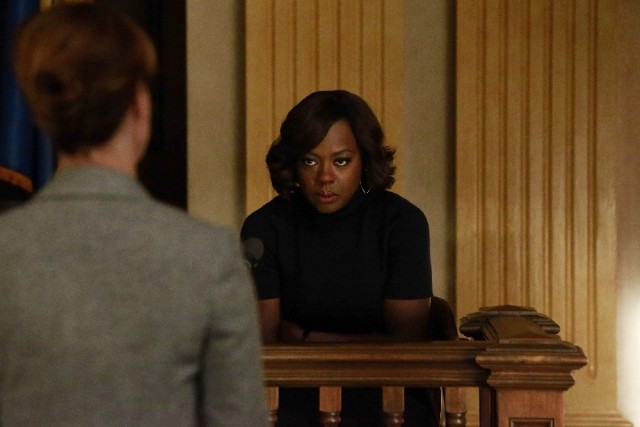 How to Get Away With Murder returned last week with an absolutely fantastic second season premiere, and the twist in the final moments has kept me on the edge of my seat for the past seven days. Let's take a look and see what happened in the second episode of the season, "She's Dying."
The episode opens with a quick look at more of the flash-forward that took place at the end of the season premiere, and it lets us know a little more about where some of the other characters were during Annalise's shooting. As interesting as last season's use of flash-forwards were while they were based around the death of Sam Keating, the way that we've built up affection for Annalise has definitely made me care a lot more about the ones this season than anything that came before.
We return, also, to the case of the siblings accused of murdering their parents, whose case Annalise has now officially taken on. In addition, the siblings are now being questioned in the death of their aunt, who was murdered at the end of the previous episode. Annalise gives everyone a job to do in this case, including, reluctantly, Bonnie. She lets Bonnie know exactly where she stands with Annalise at the moment, though, and things remain very tense. Wes offers to be the "in" for the sister in the pair, and Annalise agrees (to the disdain of the rest of the team who worries that it could lead to another Rebecca situation). The team ends up finding some information that they can possibly use to help out after hearing about something from Nate's trial.
Speaking of, Nate's preliminary hearing also begins in "She's Dying," and it gives us a lot more of Famke Janssen's Eve. After bursting onto the scene in such a big way last week, Eve is the element of the season that I've been most interested in seeing explored. So far, I'm not disappointed. She and Annalise share a moment in the beginning in which they discuss their actions in the previous episode, and it's clear to see that their relationship and progression is going to be even more complicated than expected. This is expounded exponentially once opposing counsel accuses Annalise of aiding Nate in Sam Keating's murder, and Annalise is called as the prosecution's first witness (treated as a hostile witness). Even though it isn't her case, Annalise switches into lawyer-mode while on the stand, and it's a really fun moment to see. At the end of the interrogation, she delivers an emotional monologue that could quite possibly help lead Viola Davis to another Emmy win next year. This preliminary hearing ends with the judge ordering the prosecution to go back to the drawing board and re-form her case, focusing more on who the suspect in the murder actually is.
Asher is often used as comic relief on How to Get Away With Murder, and this trend continues with this episode. My favorite scene with him in "She's Dying" is an incredibly uncomfortable moment with Oliver (after Conner told everyone about Oliver's positive HIV diagnosis), and interestingly, it helps to make the tension between Conner and Oliver even thicker than before. The writers have done a really great job with Asher throughout the show's run, and I'm glad that he seems to be a little more involved with the story going forward. That said, I do hope that he's included even more later on.
Toward the end of the episode, the "Eggs 911" mystery becomes even deeper as Wes makes a revelation after seeing Rebecca's old possessions, and the mystery of Annalise's shooting introduces a couple more new suspects that makes it all the more intriguing.
"She's Dying" was yet another solid episode of How to Get Away With Murder, and this season is already managing to show just how much more this series can improve over an already-phenomenal first season. It's such a shame that a full season of this didn't drop at once, because I absolutely can't wait for next week's episode.
What did you think about this week's episode of How to Get Away with Murder? Who's your guess for who shoots Annalise this season? Let us know your thoughts in the comments below, and tune in next week for another review!
[Photo credit: Mitchell Haaseth/ABC]
Tell us what's wrong with this post? How could we improve it? :)
Let us improve this post!