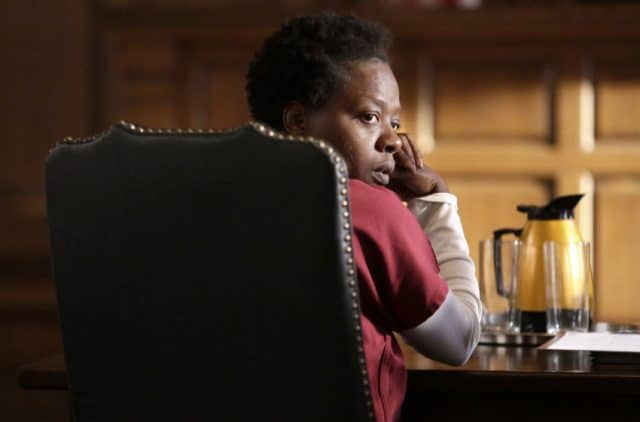 How to Get Away with Murder is always a wild ride, but never moreso than the back-half of this season. The mystery of #WhoKilledWes has led to some pretty incredible moments, and the mystery has helped the series be more engaging than every. Let's take a look at what happened in this week's new episode, "Go Cry Somewhere Else."
If you'll remember, last week's episode ended with Annalise still being charged despite Frank's confession to killing Wes. We also found out that, on that terrible night, Bonnie told Frank to keep following Wes. Both of these things would seem to indicate that Frank really is responsible for the death, but that answer seems a bit too easy for this series.
At Wes' memorial in the present day, Laurel has a breakdown while trying to give a speech, and it ends with her at the morgue. She wants to see Wes' body, but, of course, she can't just do that, so she (after freaking out the morgue attendant) convinces Nate to show her the body himself. He agrees, but they discover that Wes' body is missing and has been replaced. While this doesn't mean that Wes' death was faked (as could be the initial hope for some fans), it does add even more to the mystery that's unfolding. Nate confronts the DAs (remember, he knows that the autopsy report was false, too), but they don't know how it happened. Turns out, the body was signed to be moved by Nate himself (which is an interesting development indeed).
It's finally time, too, for Annalise's arraignment, and her mother, to Annalise's dismay, shows up, but her health is quickly failing her and making her memory very spotty. Annalise wants Bonnie to find her mother somewhere safe to live, but Bonnie is much more interested in trying to get Annalise out on bail (something that is repeatedly denied by the judge). Annalise decides to handle this herself and goads her cellmate into beating her up, and Bonnie and Annalise work together to falsely claim this as evidence of abuse. Finally, the judge grants the bail so that the photos don't go to press.
In the end, we find out that Oliver made a copy of the files he deleted from Annalise's phone (but hasn't looked at them yet), Frank will be representing himself in his case, and, on the night of the death, Wes and Nate ran into each other at Annalise's house.
I find it hard to believe that Wes' death would have been faked after all of this buildup, but it seems that we're going to have to wait a little longer to find out exactly what's going on. Nate is very shady right now, and Simon has shown up again at a very conspicuous time, so there's definitely more to this mystery than we're continually led to believe. There aren't many episodes left this season, so the answers will definitely come soon. In the meantime, "Go Cry Somewhere Else" was a great episode of How to Get Away with Murder that had an incredible amount of developments that should drive the story for a while, and I can't wait to see the ending.
What did you think of this week's new episode of How to Get Away with Murder? Let us know your thoughts in the comments down below!
[Photo Credit: ABC]
Tell us what's wrong with this post? How could we improve it? :)
Let us improve this post!