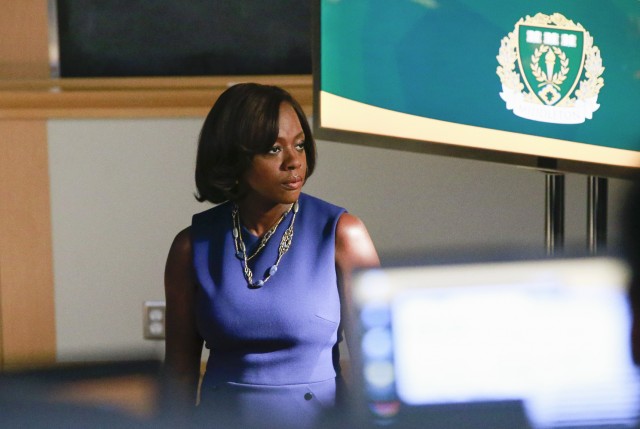 One of the strongest freshman shows, both in quality and in ratings, last season was How to Get Away With Murder, the latest Shonda Rhimes-produced drama on ABC that returned tonight to its place on the fall schedule as the third weekly entry in the TGIT programming block.
The first season of the show saw law professor and criminal defense attorney Annalise Keating, played by recent Emmy winner Viola Davis, selecting five students to intern at her firm. The students find themselves caught up in a case that, eventually, leads to the death of Annalise's unfaithful husband. The first two-thirds of the debut season show the events that lead to Sam's death, while the final portion of the season deals with Annalise's attempts to help her students both cover up her husband's death as well as prove his legal responsibility in the murder of a young woman. Other key characters during the first season are Liza Weil's Bonnie, a lawyer who works in Annalise's firm; Frank, an associate of Annalise's that [SPOILER] is ultimately responsible for the death of the young woman; Detective Nate Lahey, Annalise's sometimes-lover; and Rebecca, the girlfriend of Annalise's intern Wes, who was also involved in the case before [SPOILER] being found dead in Annalise's house in the final moments of the season finale.
Season 1 of How to Get Away With Murder was filled to the brim with drama, romance, twists, turns, blackmailing, soapy goodness, and, yes, murder. Millions of viewers, including myself, have been patiently waiting for the return of the show, so let's take a look at the Season 2 premiere, "It's Time to Move On."
The biggest question lingering from last season, as I mentioned a few lines ago, is the question of who murdered Rebecca. The episode opens in classic form by juxtaposing a lesson in Annalise's class with Rebecca's death and body removal. While we get the chance to see a more confident and aggressive Wes in the aftermath of his girlfriend "running away," we're left in the dark about who the true killer may be. While this mystery may be on everyone's mind at the firm, life, as always, goes on as Annalise decides to take on the case of siblings that are accused of killing their parents. This decision, however, manages to bring guest star Famke Janssen to the scene as Eve, a famous death row defense attorney that Annalise convinced Nate to get to represent him. (Remember last season when Annalise secretly gave a phone number to Nate while he was in jail? Here's the payoff for that.)
Annalise's mission for the interns is to somehow make the Hapstall siblings' current lawyer to make a mistake so that she can swoop in and take over. We were able to see last season just how conniving (and convincing) Annalise Keating can be when she wants something to happen, and the extent of what she's asking her students to do shows us that this spirit hasn't at all faded in the aftermath of the most recent murder. Speaking of Rebecca's murder, Frank is completely convinced that Wes is the one responsible, but Annalise isn't quite so sure. Nevertheless, she decides to help Frank find out once and for all if the former-boyfriend killed his lover in a moment of rage. I'm not going to lie, her plan for finding this out didn't quite sell me, but I'm pretty willing to give How to Get Away With Murder the benefit of the doubt when small things like this happen.
Through the rest of the episode, we find out that Wes wasn't the killer. Luckily for us, though, the show doesn't keep us in the dark for long and reveals who truly killed Rebecca. I won't spoil the identity here, but the reveal is shown and explained in such a way that makes it completely believable while kicking off a major path for the story to take. We also get some more information about Eve that surprises and intrigues in a way that this show has become well-known for.
How to Get Away with Murder has always worked at its absolute best when it cleverly interweaves the case-of-the-week (as it's, at its very core, a procedural; a serialized procedural, but a procedural nonetheless) with the primary story arc that's encompassing our main characters. In "It's Time to Move On," the case definitely takes on a much smaller role than I tend to like on this show, but I can overlook that slight disappointment because of two things: 1) it's a season premiere that needs to get us back into the story, and 2) the story development in the episode was just so incredible. Fortunately, this case will definitely be a recurring element for at least a little while longer. Also, Famke Janssen's appearance on the show (confirmed in the preseason to be a multi-episode role) brings so much gravitas to a show that is already overflowing with pure, raw talent that it probably makes other shows sick. The first season of the show was frequently recognized for how wonderfully it was able to use its guest stars in completely complementary ways, and this episode signifies that Season 2 will do this just as well.
How to Get Away With Murder isn't a show that will suit everyone's taste. Some people won't be able to appreciate the overtly soapy elements that have become a Shonda Rhimes standard. Others just won't understand how anyone can keep up with all of the twists and turns that are staples of every single hour. But for those that can appreciate this show, for those that can understand this show, How to Get Away With Murder is an experience that is unlike any other on television. All of the show's elements can be found elsewhere, but no other show uses these elements in the exact combination that we see here. The writing is as great as ever, the acting is perfect, and the continuing story remains incredibly interesting sixteen episodes in. If the show manages to keep up this quality, I think a lot more prestige will find How to Get Away With Murder before too long.
What did you think about the season premiere of How to Get Away With Murder? Do you think the show lost any steam between seasons, or is it just as good as (or maybe even better than) ever? Let us know in the comments down below, and tune in each week this season for our continuing reviews of How to Get Away With Murder!
[Photo credit: Mitchell Haaseth/ABC]
Tell us what's wrong with this post? How could we improve it? :)
Let us improve this post!