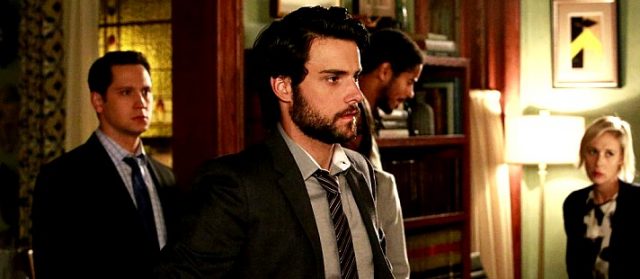 How to Get Away with Murder is rapidly approaching its mid-season finale and major reveal, so let's jump right in and take a look at what happened in this week's new episode, "Call It Mother's Intuition."
The episode opens with Annalise in a holding cell two weeks from now, and she's finally given her official charges: arson and murder. An anonymous source has given the evidence to the police, and the episode immediately rewinds two weeks earlier to Wes being questioned again about the shooting. The dynamic between Annalise and Wes has always been one of the most captivating aspects of How to Get Away with Murder, and the way that the two are consistently growing further apart while still being tied together more and more has been incredibly interesting to watch. Wes' story (almost as much as Annalise's) has been one of the central focuses of this series from the very beginning, and this season has done a wonderful job so far at exploring that story deeper.
Bonnie and Frank's evolving "relationship" (for lack of a better word) has also been great to see. I say all the time that Liza Weil is How to Get Away with Murder's secret weapon, and the past few episodes of the series has only proven that more and more. The other secret weapon, though, is Jack Falahee, and "Call It Mother's Intuition" is yet another great episode for Connor. I've loved watching the character for the past two and a half seasons, and his relationship with Oliver is the most emotional aspect of the show by far. They've had their ups and downs this season, too, but it sure is great getting to see the two of them together.
I think my favorite part of the season has been Lauren Vélez's addition as Hargrove. Having someone for Annalise to play off of at work like this has done wonders for the character, and Hargrove herself has been pretty fun to explore. This show works best when it uses its secondary and recurring characters in strong ways (just like they did with Oliver for the first two seasons), and I'm glad that this is a trend that's continued into season three.
"Call It Mother's Intuition" also had a really great legal case for the interns to work on that I didn't even mention above, but it may be my favorite one of the season so far. Overall, this was a very strong episode that propels us further and further to the big death reveal that we know is coming, and, while not giving us another hint as to who is still alive, I find myself more intrigued than ever after this one. That's the sign of a good episode of How to Get Away with Murder.
What did you think about this week's new episode of How to Get Away with Murder? Let us know your thoughts in the comments down below!
[Photo Credit: ABC]
Tell us what's wrong with this post? How could we improve it? :)
Let us improve this post!