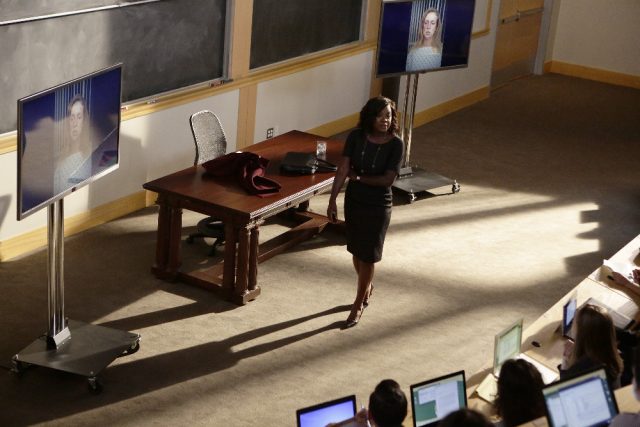 Last week's season premiere of How to Get Away with Murder introduced us to a new mystery that will easily drive the narrative of the season. Who's going to die? Let's take a look at what happened in this week's new episode, "There Are Worse Things Than Murder."
The episode opens at the scene of the fire, right after Annalise has seen the body of our newly-deceased character. She's being questioned by the police, clearly being investigated as a suspect in burning down her house. She yells at the cops to just arrest her, and the timeline jumps back two months to find a much happier Annalise spending a morning with Nate before work. The incident with Frank is still haunting her in a major way, but she can't focus on it due to being called into the campus president's office about an investigation into the flyers that have been posted around the school. Despite the indication otherwise from her public demeanor, the situation has clearly rattled Annalise, and she can't turn to her students for help now that their relationships are so much more strained. It's actually a refreshing change to see the way that everyone is interacting with one another, and it gives a bit of a new life to the show.
Connor and Oliver have always been the heart of the show, and their breakup is a fun thing for the show to explore. The most amusing thing is the fact that Connor's friends seem to be taking it harder than he is, and it cements that status even further. It's interesting that this development comes as Oliver is now a series regular on the show, but that tells me that it will be a long-term exploration instead of just a temporary wrench.
The change in Annalise's class structure is doing wonders for the procedural element of How to Get Away with Murder. Having the students take this type of hands-on role makes the cases feel much more natural as a part of the story than they sometimes have in the past, and it's also giving the characters opportunities to take on leadership roles that they otherwise wouldn't. Connor leading the group this week is something we haven't gotten to see before, and it works extremely well.
The Frank story is the driving force of the "current" (meaning, not the flash-forward) timeline, but it still feels like a side-story most of the time. I know that the show just wants to ease us into it before things blow up, but I feel like there should be more of a "necessary" feel to it this early in its life. However, this is just the second episode of the season, so I'm sure it will be more explosive soon.
Even though it felt a bit slower than last week's season premiere, I feel that "There Are Worse Things Than Murder" was a stronger episode of How to Get Away with Murder than the one before. There's still a lot that needs to be addressed, but the potential for the season feels better than it did a week ago.
What did you think about this week's new episode of How to Get Away with Murder? Let us know your thoughts in the comments down below!
[Photo Credit: ABC/Nicole Wilder]
Tell us what's wrong with this post? How could we improve it? :)
Let us improve this post!