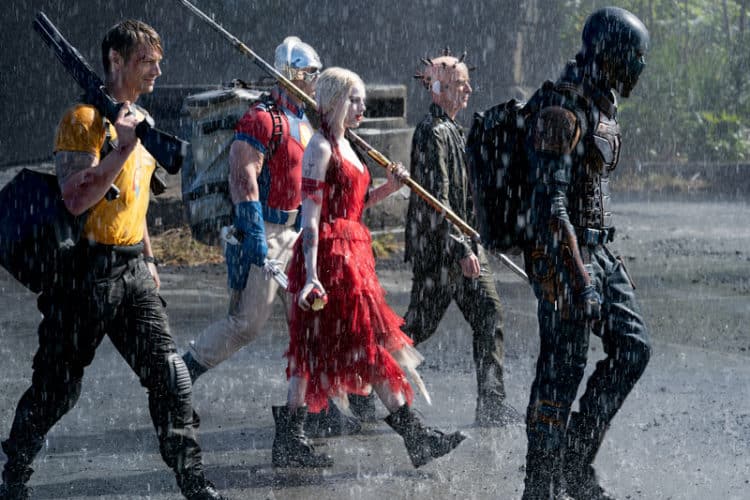 Assuming that you've seen James Gunn's "The Suicide Squad", which apparently has nothing to do with "Suicide Squad".. but also does at the same time, you've noticed that instead of hit assassin Deadshot we got.. hit assassin Bloodsport. There are more than just differences between the two mercenaries that makes these two different characters from their comic origins and beyond. While the characters were clearly entirely different from each other, they are very easily comparable to each other, so much so that DC replaced Will Smith's Deadshot from the original installment with Idris Elba's Bloodsport. Immediate differences between the two villains are their associations with Batman and Superman, respectively. Several characters from the DC universe are showcased in both movies and each explored the lore of the universe in their own ways. Below, we discussed the character's differences, from their comic origins to their DCEU movie debuts, and how they're truly different from one another.
Deadshot and "Suicide Squad"
Deadshot was featured as one of the main characters of "Suicide Squad" and unlike "The Suicide Squad", more than half of the cast didn't die completely outrageous deaths. While "Suicide Squad" had a very dark, end of the world or else plot going for it, "The Suicide Squad" had a world-ending plot too with an odd character behind the scenes that we'll talk more about below. In the comics, Deadshot and Batman had quite the rivalry with the two constantly going at it to some extreme or another. Beyond the comics, Deadshot has been portrayed in television shows and movies, with Will Smith being the most recent, famous incarnation.
As a mercenary, while Deadshot may be a weapons expert, he is not a sword-wielder on the level of Slade Wilson, or even Bloodsport who is more likely to use a sword, surprisingly. The character is more renowned with guns as to "never miss hit shot." Other members of the "Suicide Squad" version of the team were the less expected Killer Croc, Enchantress, Katana, and more while the more expected characters were Harley Quinn, Captain Boomerang, among others, and even Jared Leto's Joker.
Bloodsport and "The Suicide Squad"
Pseudo-sequel 'The Suicide Squad" had a pretty massive cast of actors ranging from comedians, lesser known actors, Hollywood stars and DC mainstays such as John Cena, Pete Davidson, Margot Robbie, Viola Davis, the voice of Sylvester Stallone and more. Many, many interesting choices were made in this casting, with several characters surviving the movie, and with DC starting to step up their game with their movie roster, it appeared that anything from DC could follow this movie and become canon. Bloodsport pulls his weapons and the rest of his arsenal from a warehouse where he has a supply of literally any sort of weaponry imaginable in order to handle any situation that the mercenary is placed in.
Harley Quinn, Captain Boomerang, Amanda Waller, Rick Flag and others were in both versions of Suicide Squad movies. While "Suicide Squad" was a solid action film with good humor and great little DC tie-ins, "The Suicide Squad" was an instant James Gunn classic with its major humor infused action. That's not to say that "Suicide Squad" didn't have its own DC tie-ins but "The Suicide Squad" overall felt like it was a beautiful, comedy/action hybrid from the very start and covered a pretty extensive corner of the DC Comics universe. With characters like Javelin, T.D.K., and Polka Dot Man, this movie have have, overall, stood out more than "Suicide Squad".
Why Bloodsport was Ultimately Replacing Deadshot
Bloodsport, while clearly a worthy adversary with his skills, has quite the arsenal at his disposal and has even shot Superman with a Kryptonite bullet, which is ultimately what landed him in The Suicide Squad in the first place. However badass that may be, in my personal opinion, I believe that Deadshot only comes second to Deathstroke when it comes to Batman villains. When it comes to hand-to-hand combat, Deadshot stands out above Bloodsport with his deadly use of swords that outranked Bloodsport's. The description of either character is similar, apart from their archenemies, and one could easily replace the other in any narrative.
Will Smith not being cast may not be the reason for the addition of Bloodsport to the franchise but it sure would have made a different movie but seeing as "shooting Superman" wasn't actual crucial to anything the DCEU has done so far, it's irrelevant. While there were several incarnations of the Suicide Squad in the comics and even movies, animated and live action, Amanda Waller is always found in charge of the convicts through agencies such as Checkmate or more commonly A.R.G.U.S. Overall, "The Suicide Squad" used Bloodsport as a second-hand Deadshot by using a character will pretty much every aspect of the other.
Tell us what's wrong with this post? How could we improve it? :)
Let us improve this post!