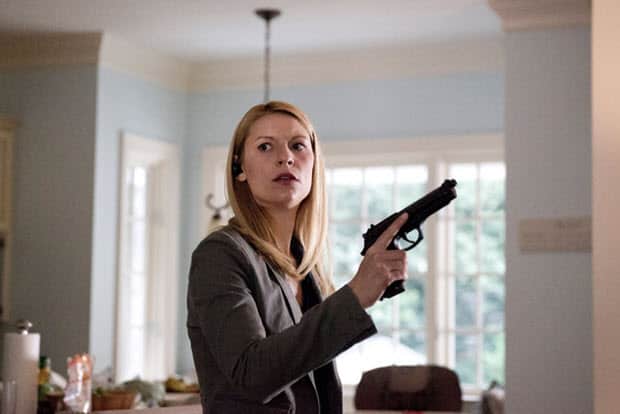 So before we discuss the bulk of last night's pretty solid episode of Homeland, entitled "Still Positive," let's get the major negatives out of the way first. Even though I had been hoping against hope that my issues with Dana Brody during the first five episodes of Homeland's third season had purely been because of the awful presence of Leo, last night I came to the conclusion that the Homeland writers truly have no idea what they are doing with Dana and are making decisions that are not only nonsensical within the framework of the series' plot but also damaging to the validity of Dana as a character.
Dana's decision to change her last name works for her as a character. She has been ridiculed and stared at because of the actions of her father, leading her to try to kill herself. The name "Brody" is a scar that will never heal; it's a constant reminder of the betrayal from her father and the pain and suffering that he has caused her. However, since we have spent most of our time during these past few episodes dealing with Dana and Leo on a Bonnie and Clyde-esque adventure rather than seeing her personal struggles illustrated through her relationships with Jessica and Chris or trouble with kids at school, Dana's actions here feel a little sudden.
What feels even more sudden, though (and by extension, a little unbelievable), is Dana moving out of the Brody's house and into a new home with her friend, Angela, a girl that we meet for the first time in this episode. If Angela had been present earlier in this season, if we had seen any sliver of her and Dana's friendship before last night's Homeland, perhaps this plot works better than it does right now. But because there has been no build-up and no realistic explanations for the extent of Dana's actions or Jess's approval and understanding of them (seriously, who would allow their teenage daughter to move in with a girl that they never met before? Especially after said teenage daughter attempted to commit suicide only months before), the entire Brody family storyline is continuing to fall flat and is the biggest detraction from the more plentiful and positives aspects of Homeland's third season.
Now let's turn to those more positive parts of Homeland like Saul punching Javadi in the face to end the episode. I mean, seriously, how awesome was that? But before we discuss that, we should probably talk about how we got there, and also about the little, miniscule fact that we now know that Carrie is pregnant (as the episode title suggests, the results of her pregnancy tests are "still positive") and that Brody has to be the baby's father.
While I was disappointed that Carrie's undercover work with Javadi lasted all of five minutes, Homeland did a fantastic job of actually establishing this guy as a threatening villain last night. Carrie and Saul may "control" him through their knowledge that he is an enemy of the state of Iran, but it is clear when Javadi brutally murders his daughter-in-law and ex-wife that he will not be easily manipulated like the mole that the CIA wants him to be.
The scene in which he kills the two women in the house (shooting his daughter-in-law quickly as she opens the door but unmercifully stabbing his ex-wife with a broken bottle), as his grandson cries in the background, illustrates the horror that Javadi is able to bring about. We know (or are at least being told) that he is the orchestrator of the Langley bombing, and we find out in this episode that he has history with Saul, a history that led to six of Saul's men being murdered (I'm really intrigued by the past of Javadi and Saul and hope we get more information about it ASAP). However, it is through these visceral, violent acts that we truly see what Javadi is capable of, and it is because of them that he becomes a more real, fleshed-out villain rather than just a vague, looming threat.
Speaking of looming threats, one of a different kind that is also on the horizon is Carrie's pregnancy. I'm still not sure whether I'm a fan of this storyline or not yet (as of right now, it feels a little too melodramatic, even for a show like Homeland that is so good at blending its melodrama with espionage), but since its introduction last night, I cannot stop thinking about how this only complicates matters even more for Carrie and really casts doubt about the possibility of her continuing her career in the CIA.
Furthermore, what about the emotional complications for Carrie? Does she want this child as a reminder of Brody, since she may never see him again? Will she get an abortion? Will this baby be the thing that brings Brody back into the fold some way? Is the baby even Brody's? (It has to be, doesn't it? Otherwise, this storyline would definitely be pointless instead of just maybe pointless.)
Building off the strength of "Still Positive," I'm hoping that Homeland can really find its rhythm in the back half of season three. So far, while I have enjoyed this season, it has not had the consistency of season one or the courageous craziness of season two, and we are already halfway through it. Instead, Homeland season three has just been mostly mediocre television with a few great moments peppered in between the average. With the Javadi plot moving at a good pace and the new emotional complication of Carrie's pregnancy, hopefully Homeland can find some balance and reclaim that wonderful, unique blend of soap opera storylines and jaw-dropping suspense. If not, the least Homeland could do is give Saul the opportunity to punch more people in the face.
Other thoughts:
One storyline that I didn't really touch on in my review was Senator Lockhart meeting with Dar at the CIA. Their discussion about the CIA and how to make it better was mostly a rehash of other conversations from throughout this season, but I'm really interested to see how Dar's role plays out as we move forward. Will he ally with what Saul believes is best for the agency, or (the more likely option) will he conform to the new standards put in place by Lockhart?
Really loved the opening sequence of Quinn, Fara, Max, and Saul all working together to find Carrie. The only person missing was Virgil.
Saul and Mira need to just call it quits. Saul is so detached from their relationship that he can't even muster up a little bit of passion when she tells him that she has been with another man. And honestly, while I understand why Mira has strayed, she just needs to leave for good because her "back and forth" routine of being there for Saul only to hurt him again kind of makes her the worst.
This is unrelated to Homeland, but I just wanted to say that I've been writing for TVOvermind for about a year and a half now and this is the 100th article that I've published. It's been an absolute blast covering so many different shows over the past two years, and I just want to thank anyone who reads my reviews or posts in the comments section. There's nothing I enjoy more than talking about TV with people, and, thankfully, this job has given me that opportunity. This whole experience has been nothing short of amazing, so thank you to everyone who has been a part of it and to those who will continue to be.
What did everyone else think about last night's episode of Homeland?