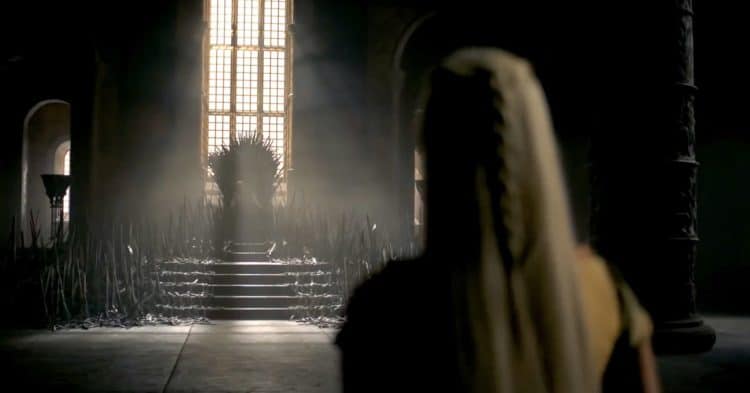 The Game of Thrones prequel, House of Dragon, has officially released its first trailer and the series appears on course to premiere in 2022. While David Benioff and D.B. Weiss have nothing to do with the upcoming series, the two showrunners still left a bad taste in the mouth of fans thanks to the misguided final season of Game of Thrones. While the new show is highly anticipated, House of Dragon still needs to prove itself to audiences and not make the same mistakes that Game of Thrones did in its last couple of seasons. Here are the issues that the upcoming show should avoid.
Characters
There's no denying the plethora of memorable characters that plagued Game of Thrones. Whether it was the monster known as King Joffery, to the mother of dragons Daenerys Targaryen, or even the white walkers, these amazing characters will forever remain some of the best to be written on television. House of Dragon would be better off not trying to replicate anyone from the original series. In order for the show to have its own identity then they need to carve out the world that feels relegated to House of Dragon. Doing a carbon copy of some of the show's iconic characters will only make House of Dragon appear lazy, and a less form of Game of Thrones in the eyes of fans. Of course, there's always going to be someone that's sly, cunning, ruthless, or heroic like some of our favorite Game of Thrones characters, but to copy the exact traits from one of the shows notable characters will only affirm that the series doesn't truly have a great grasp on its own world if it needs to steal from its predecessor.
In turn, House of Dragon also needs to pay attention to how they treat their characters throughout the series. Tyrion Lannister went from a smart and brave character to a dumb coward by the show's end. I know, I'm exaggerating how much Tyrion has fallen throughout the seasons, but they're no denying that he wasn't the same man from the beginning. Notable and failed character changes also go to Daenerys Targaryen, Arya Stark, and Jamie Lannister. We followed the journey of these characters and out of nowhere, they suddenly changed without any sort of tease or build. Betraying the character's actions made their entire journeys worthless, thus wasting the time of audiences who watched them from the beginning. House of Dragon needs to make sure that they have a strong grip on their characters from the beginning. There's nothing wrong with characters changing, but it needs to be built up beforehand. Had Arya struggled with her decision over wanting to kill Cersei then her abrupt change of heart would've made more sense. Jamie negating all of his goodwill by going back to Cersei damaged his character entirely. I don't need to explain why Daenerys sudden thirst to kill was bad. As long as the writers of House of Dragon can carefully craft compelling characters through their journeys then the show will be fine.
Easter Eggs
Since this show is set 200 years before the events of Game of Thrones, I don't expect Daenerys Targaryen or anyone else from the original series to pop; however, House of Dragon does need to be careful on how they craft their world. There's nothing wrong with having Easter eggs that showcases what's to come in the future; however, winking at the audience every chance the series gets can often be distracting and annoying. Take Gotham, the show kept beating the audience over their heads that this was indeed Gotham by unnecessarily overcrowding the first season with every villain that they could. The reason this is such an issue is that it prevents the series from truly carving out its own identity, and in turn, can make expectations that would likely never come to fruition. For example, if the show kept winking and teasing Daenerys Targaryen – which again, won't happen since this is 200 years before GOT – then audiences would eventually expect the Mother of Dragons, overshadowing the current arc and storylines because of how big her name is. Just like Breaking Bad and Better Call Saul both have their own voice, despite being in the same world and operating under the same rules, House of Dragon needs to do the same.
Take Time Developing Each Story
This is what ultimately killed season eight. It was clear that David Benioff and D.B. Weiss wanted to be done with the world of Game of Thrones thus they opted to rush season eight. Reportedly, HBO wanted to get ten seasons out of Game of Thrones; however, Benioff and Weiss opted to go for eight seasons. In theory, a lot of the ideas presented in the final season were good, but the problem is that they were rushed to the point where they hampered and hurt the overall show. Hopefully, HBO and the showrunners learn from this lesson and pen each season carefully. House of Dragon doesn't need to go eight seasons. Breaking Bad had five seasons. The Americans had six seasons. The Sopranos had six seasons. Watchmen had one season. Point is, these shows are amazing despite their short span of seasons. There was a clear beginning, middle, and end set and it showed throughout each season. Did plans change? Highly likely, but you can barely tell if you binge the entire catalog of each series. House of Dragon has a chance to expand on the compelling Game of Thrones lore and become ranked as one of the best shows to grace television. Hopefully, they don't mess it up.