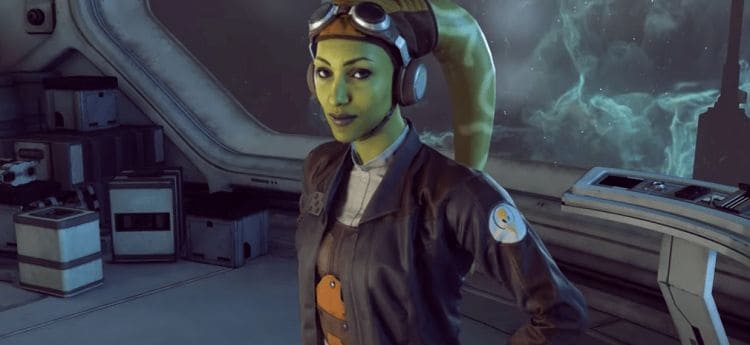 A lot was revealed during the Star Wars Celebration ceremony. One very unexpected surprise was a brief glimpse of Hera Syndulla for the upcoming Ahsoka series. Was this totally unexpected? I think we Star Wars fans saw this coming, considering that Sabine Wren will also be appearing in the series. On top of that, the series will be taking place right where Rebels left off. Just a little recap, Sabine Wren will be joining Ahsoka on a quest to find the missing Ezra Bridger. And thanks to Ahsoka's live-action debut in the second season of The Mandalorian, we know that she's searching for Grand Admiral Thrawn as well. How can you not be pumped about seeing Thrawn in live-action form? That is something we are all dying to see, since he'll likely become the next big bad of Star Wars.
But lucky for Ahsoka, she won't be facing him alone. Along with the Mandalorian rebel and renegade Sabine Wren, the owner and pilot of the Ghost ship Hera Syndulla will apparently be joining them. Out of all the former crew members of the Ghost, Hera might have been given the happiest ending. She may have lost her lover, Kanan Jarrus, but she flew off into the sunset with their young son, Jacen Syndulla. Despite her losses, she managed to find some kind of happiness by the time Rebels came to an end. But even after the finale of Rebels, it seems like her story isn't finished.
This is exciting news for fans of the Rebels series, given that Hera was always considered to be a fan-favorite character since the first season. Her characterization only got better, as she continued to serve as the moral compass and the main motivator for the entire crew of the Ghost. And let's just admit it, we Star Wars fans all think the Twi'lek females are super attractive. If you're not a Star Wars fan, then you just don't understand. There's no doubt about it, Hera is the gold standard for all Twi'lek characters and arguably one of the strongest female characters in all of Star Wars. And now that she's a single parent, much like the Mandalorian, we now have a chance to see a whole new side of her.
Now let's be clear here, most of us didn't get a chance to actually see any kind of footage of a live-action Hera for the Ahsoka series. The only people who really saw something were the ones who attended the Star Wars Celebration ceremony. Boy, those lucky little devils. Granted, the Ahsoka series has just started production, so no one should've expected any footage. What was shown, however, was a few images that showed Ahsoka and Hera walking on the bridge of the Ghost. The most curious thing about this image was that we only got to see Hera from the back. I think this raises some questions about how they intend to bring in the Twi'lek pilot.
First and foremost, who is playing Hera Syndulla in the Ahsoka series? A very obvious choice would be Vanessa Marshall, the voice actress who voiced the character in the Rebels series. If this series intends to bring Lars Mikkelsen back to play a live-action Grand Admiral Thrawn, which they should, then they can do the same for Hera. That may be the obvious choice, but we shouldn't count out the big newcomer for the series. Mary Elizabeth Winstead, who is also the wife of Ewan McGregor, A.K.A Obi-Wan Kenobi, will be joining the series in an undisclosed role. Hearing this news makes me curious as to which character she'll be playing.
On one hand, she could be playing a totally original character, which the franchise needs more of. But then again, I could also see her playing a character we've seen before. I won't lie, there is a part of me that still believes she'll be replacing Gina Carano for the Cara Dune role. No matter what you think about Gina Carano, she did an incredible job playing Rebel Shock Trooper Cara Dune and that's why she became a fan-favorite.
I think we should see the character again, even if that means Disney won't make amends with Carano. In that case, there is no reason why they shouldn't recast the character. It's more unlikely that the character won't return for the Ahsoka series or the third season of The Mandalorian, but if she does, then maybe Mary Elizabeth can take over? That's more wishful thinking, but that curveball can still be thrown at us. And if it's not, then that's fine. If Mary Elizabeth Winstead isn't playing Cara Dune, then she might be better suited for a live-action Hera Syndulla.
Now if Disney has casted Mary Elizabeth Winstead for the role of Hera in Ahsoka, then her role will go beyond one or two episodes. As a former comrade of Ezra and Sabine's and still the pilot of Ghost, Hera should be vital for helping Ahsoka and Sabine travel in order to find Ezra. The only thing that has to be considered is her son Jacen. It's unlikely that she would want to bring him along for the whole journey, but she'll just as likely would like to find Ezra. If that's the case, then she could leave him with someone she trust while she joins Ahsoka and Sabine. That's my theory, but this news just fuels my speculation that Mary Elizabeth Winstead could be playing Hera in live-action. If my theory is correct, then the Twi'lek rebel will once again have a significant role in another Star Wars show.
What are your thoughts, Star Wars fans? On a fun side note, you must know what this means? If Hera Syndulla is finally getting her live-action debut, then it's possible Zed might not be too far behind. He was arguably the coolest member of the Ghost crew, so how can they not bring him back? Call it wishful thinking, but Disney just can't forget about the fan-favorites.Ewan McGregor
Tell us what's wrong with this post? How could we improve it? :)
Let us improve this post!