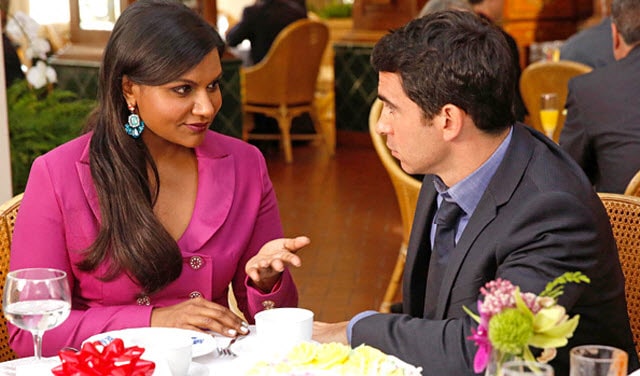 At this point in the series, The Mindy Project might as well be renamed The Danny Castellano Project. That's not a bad thing at all, especially after his secret identity as Diamond Dan was revealed last week! Yet another piece to the puzzle of Danny's life was finally introduced last night in the form of his mother, played by guest star Rhea Perlman.
The cold open alone was hilarious with an unexpected drop-in from Annette Castellano when Mindy and Danny are enjoying breakfast in his apartment. Having never even mentioned Mindy to his mother, Annette mistakes her as Danny's cleaning lady and even asks her if she can come out to Staten Island every Wednesday. Poor Mindy!
The Castellanos were out in full force when Danny brought his mom and brother Richie to see his office. Nervous and tongue-tied, Danny finally told his mom the truth about Mindy when he introduced her as his girlfriend. When Annette apologizes for the other day, Mindy brushes it off as she says, "it happens all the time. One Thanksgiving a little boy thought I was the Dora the Explorer balloon." Haha! Mindy also learned of Annette's birthday brunch the next day, conveniently at the same time she's scheduled to do a C-section.
Danny's past girlfriends and even ex-wife may not have gotten along with Annette, but Mindy is hell-bent on making her love her. So much so that she has Peter cover her C-section and she crashes the birthday celebration with gifts in hand. Implementing her four step "mom catching" plan works up until Danny presents his mom with a gift of a new stove that is being installed in her house while she's out that day. Annette can't accept the thoughtful gift. "That's how elder rape occurs," Annette's best friend Dot chimes in with worry that now a strange man knows the layout of her house. Richie's gift to his mother of an "I Heart NY" teddy bear is fawned over as being so generous of him.
Mindy's trying to stick to her plan of agreeing with everything Annette says in order to get her to like her, but she can't keep it up. She finally speaks out in Danny's defense and causes Annette to go into a guilt trip. She's not willing to accept anymore of Danny's help since he apparently pays all her bills and instead goes back to work cleaning hotel rooms. It's in one of these hotel rooms that Mindy and Annette finally bury the hatchet when Mindy helps her with a popped hip.
Annette: "I treat Daniel the way I do because he's tough. He can handle it. He doesn't need someone to take care of him."
Mindy: "I think everyone needs to get taken care of sometime, even Danny."
Annette: "Maybe that's why he likes you so much. He finally found a strong, immigrant woman to take care of him."
Elsewhere, Morgan and Peter appear to be bonding over their relationship problems. Last week Peter found out that his girlfriend Lauren kissed Jeremy and now he can't trust her anymore. He pushes his frustrations onto Morgan when he finds Morgan changing almost everything about himself for Tamra. First he's trained to pee sitting down on the toilet, next he's being told he has to get rid of his 40(!) dogs because she's allergic. She's also "allergic" to all jewelry that's not gold and all cheap seafood.
By the way, Morgan and Tamra as a couple is still so weird to me. It seems like they only got together out of convenience, but if this episode is any indication, they just might work out. I thought Tamra was being a little rude by making Morgan re-home all of his beloved dogs. Sure, Robin Scherbatsky sent all her dogs to her aunt's farm when Ted was allergic, but let's be real here. No one should have to sacrifice their pets for a relationship. I'm glad Tamra made Morgan stop his dog fair by just agreeing to never go to his house anymore. As she says, "his grandma's kisses are hella wet." What?! I can't help but hope we get to meet this grandmother eventually.
In the end, Morgan gives Peter one his favorite furry friends, Nicole the Pomeranian. Having a positive female relationship in his life might help with his recent trust issues with Lauren. Lauren wasn't in this episode but Tracey Wigfield did write it! The jokes were really a mile a minute that you'd probably benefit from a second or third viewing to catch all the lines you may have missed.
That said, what was your favorite moment of the episode?
[Photo via FOX]
Tell us what's wrong with this post? How could we improve it? :)
Let us improve this post!