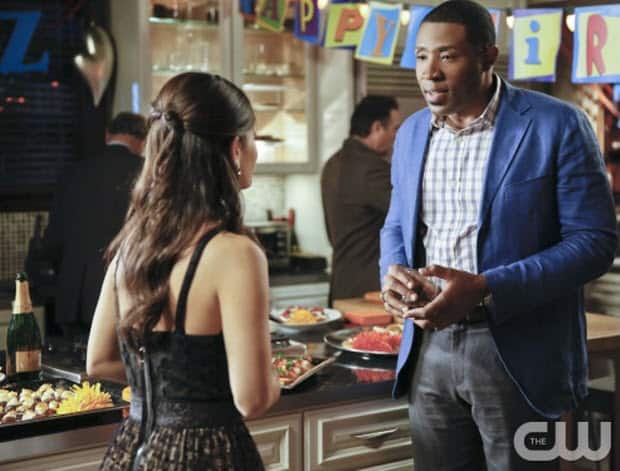 Other than Brick, it's not often we see the parents of these young 30-somethings on Hart of Dixie. It was a refreshing change of pace from the constant relationship drama to see a bit more of Zoe and Wade's parents as they try not to meddle too much in their adult children's' lives.
As I predicted last week, Zoe and Joel are living in Lavon's carriage house while their new house is being renovated. Reality sunk in to Zoe as she woke up in the room she'd been living in for 2 years previously, and of course Wade barges right in. He's not alone, and he actually doesn't seem fazed at all to have walked in on a private moment between Zoe and Joel, because he has his own girlfriend Vivian with him. They all gather in Lavon's kitchen for an awkward breakfast. There used to be just enough room for Lavon, Zoe, and Wade in that kitchen in seasons 1 & 2, but with the new significant others in the picture now it's quite obviously overcrowded.
Joel was throwing a birthday party at Lavon's for Zoe which only got complicated when her mom surprises her with a visit. Zoe hasn't had the chance to tell her about the Wilkes family she's recently connected with, and in order to spare her any hurt feelings, she schemes up a zany way to attend both her party at Lavon's and her birthday dinner with her mom and Joel at a restaurant.
Zoe's plan backfires when her mom does meet the Wilkes family, but they aren't her biggest issue with her daughter. It makes sense that she feels like she's losing touch with her only child who is now setting roots down in Alabama, a far cry from the New York City way of life she expected of her. I'm curious to see how Candice fits in with the residents of Bluebell now that she's decided to stay, because so far she's stuck out like a sore thumb. Maybe she just needs to lighten up, but for now all she's done is stuck her nose up at Zoe's life choices. It was pretty funny to see how Joel is even a little scared of how intimidating she can be, but I have a feeling this may be the influence Zoe needs to really be honest with herself about her current relationship.
Who would have thought that Crazy Earl would speak the minds of the Zoe/Wade fans of the show? When he ran into Zoe and learned of her breakup with Wade, he couldn't believe that she was actually dating a new guy. He thought Zoe and Joel were brother and sister, which I used to agree that they had no chemistry. Joel has grown on me, but I'm still not convinced that Zoe is 110% sure about him.
Lavon and Annabeth finally saw each other in the middle of Zoe's birthday party for the first time since their breakup. All along, Annabeth has been trying to pretend that she's okay with everything but she really let all her true feelings be known. She tells Lavon that he really hurt her, and in the future when she does find someone who loves her completely, he'll regret that he let her go. I still think there's a glimmer of hope for these two. After Zoe consoles Lavon that he did the right thing in being honest with AB, he seems like he had an epiphany. Maybe all he needed was this one pep talk with his best friend to open his eyes to the huge mistake he's made, because otherwise he got over his guilt suspiciously fast.
Crazy Earl took a page from Wade's book and really matured. Wade was previously avoiding the subject of Vivian meeting his father because he was embarrassed of him, so he was even shocked to see Earl cleaned (and sobered) up when he finally decided it was time for Vivian to meet him. The Kinsella men are really cleaning up their acts this season. Wade and Vivian must be getting serious about each other, but last I checked, Wade still has a problem winning over her son. I don't think they'll do anything too crazy like get engaged anytime soon, but I could definitely see Wade taking the next step and moving in with Vivian.
The most disappointing aspect of this episode was the George and Tansy storyline. Her ex, Scooter McGreevey, is also George's arch-nemesis because he once worked for the opposing town's mayor. Ever since Tansy left him, he's become a changed man and Tansy can't turn that down. That almost seemed like a slap in the face to George when she told him that she owes him another chance because he's changed for her and no one's ever done that before. If George didn't take a little offense to that, then I definitely felt offended for him. Was she implying that George isn't good enough for him, that she still sees room for him to change for her sake? Either way, George is back to square one. I think this should be a good change for George though. He just got out of a relationship with Lynly that just wasn't quite right, so maybe he needs to take the time to just be by himself. There might not be many exciting storyline opportunities for him without a love interest, but his friendship with Tom is enough to provide comic relief on the show.
Hart of Dixie moves to its new night on Fridays when it returns on March 21st. I'm a little nervous about this move to Fridays, but I think we have a fighting chance to hopefully get one more season at least.
[Photo via Greg Gayne/The CW — © 2014 The CW Network, LLC. All rights reserved]