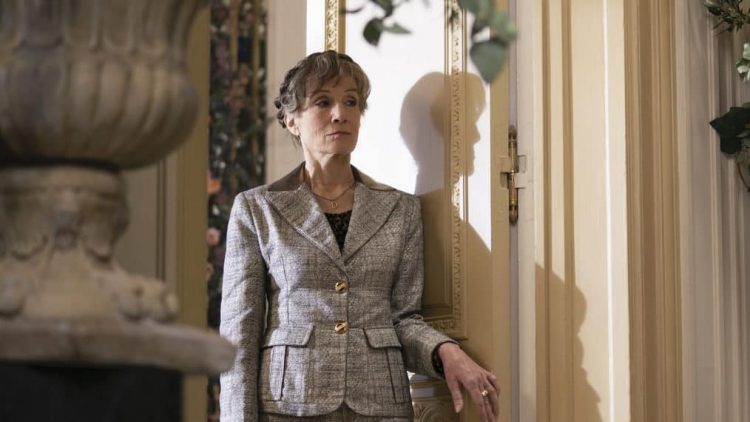 For all the famous faces and names that we recognize without fail and see and hear about on a regular basis there are still many more that are famous by right and deed that we don't notice all the time and Harriet Walters is one of those. She's had a long, prosperous career for the most part and has bounced back and forth between the stage, movies, and TV in a way that some might think would eventually strengthen or deaden her efficiency when it comes to acting out a story. In a big way though this has made her even more popular since she's known to those that have seen her on multiple occasions and is a treasure to discover for those that decide to dig into the past to find the gems that she's had a hand in creating. Thankfully she's still around and still doing her thing so it's easy enough to pay attention and take note that she is quite skilled and that she does have a lot to offer in terms of talent.
Here are a few things that might get you started if you decide to look Harriet up.
10. She's the niece of Christopher Lee.
Yes, the same Christopher Lee that was so prominent in so many different movies from decades past to some of the most recent epics. One could almost say that acting and drama is in the blood when it comes to her family since Christopher was such a huge talent. It's almost enough to think that he might have mentored his niece at one point.
9. Harriet was rejected by five different drama schools.
This sounds pretty rough doesn't it? A lot of people know what it's like to be rejected by an institution for various reasons simply because you're not deemed desirable or in some way good enough to get in. But to her credit Harriet kept pushing until she finally found a school that accepted her and actually taught her a great deal about acting.
8. She turned down a university education.
Let's be honest, a college/university education is not for everyone. If it was then you'd see the education rates explode and college degrees would be worth less than they are now. But on the up side the fact that she realized this early on means that she didn't waste a lot of time learning things that might not have been pertinent to the career she wanted.
7. She's won a couple of awards throughout her career and been nominated for many more.
Harriet has turned in great performances throughout the years and been recognized for them by those that have deemed her to be one of the best. While she only has a couple of wins and a lot of nominations it might be better this way since having too many wins is, as we've seen, enough to give a person a big head and affect their acting. Keeping a person hungry for that win keeps them on edge and ready to do their best more often.
6. Harriet has been successful stage performer for many years.
Some people actually seem to freeze up when the mere thought of going on stage, live, in front of people comes up, while others find it the best way to hone their skills and get instant feedback from the crowd since there's no director to yell cut, one has to be at their best, and it's the kind of exposure that might not be as widespread as film, but is still able to travel by word of mouth, which is just about as effective.
5. She earned the title of Dame Commander of the Order of the British Empire in 2011.
This isn't something given lightly and it's not something to be refused lightly either even though a couple of people have done so in the past. While some might claim it's a title that means next to nothing, yes there are those more cynical than I am, it's important realize that it's still the recognition of a country that sees something special in a person.
4. Both she and her uncle have had parts in Star Wars movies.
Of course you remember Christopher as Count Dooku, the villainous former Jedi master that followed Darth Sidious, but Harriet had a role, however brief, in The Force Awakens, which some people might go look up now that they've read about it.
3. She admits to being a bit childish and daffy at times.
There's nothing wrong with being a bit childish and daffy at times, it keeps us young and unless taken to extremes it helps the mind to retain at least a little elasticity so as not to become old before our time.
2. Harriet almost sounds as though she missed out on having children.
She does and she doesn't to be honest since she does admit to waiting for a while, but then waiting too long and not having the man she has now in her life. In some ways she might regret it, but in others it sounds as though she wasn't ready.
1. She's in her late 60s at this time.
She's not old enough to take her final bow yet but she is plenty old enough to have a long list of pleasant life experiences that have helped to shape who she is now.
Go on and look her up, you might be pleasantly surprised.