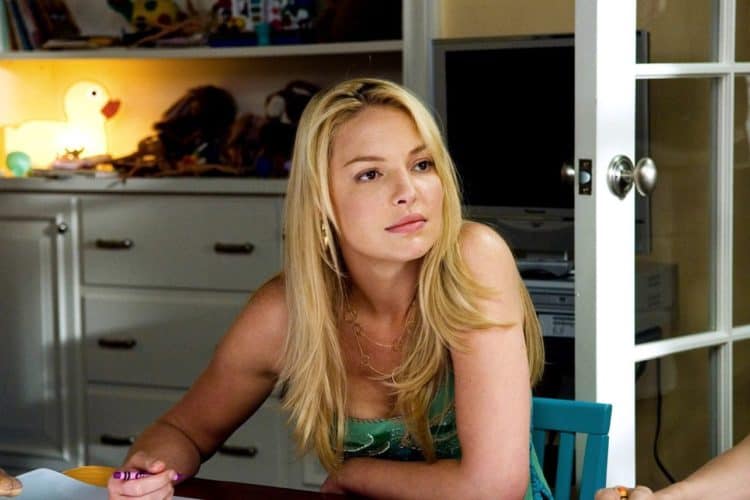 Katherine Heigl first burst onto the actor scene in the late 90s; however, it was Grey's Anatomy that skyrocketed her career to A-list status. Playing Izzie Stevens, Heigl was one of the main characters of the popular television show for five years, and the actress had one Primetime Emmy win under her belt. Heigl's career in movies was also expanding, with the actress gaining notoriety for her role as Alison Scott in Knocked Up. However, a move that noticeably affected her career was Heigl's interview for Vanity Fair; The actress stated the film was "a little sexist" and continued on saying, "It paints the women as shrews, as humorless and uptight, and it paints the men as lovable, goofy, fun-loving guys. It exaggerated the characters, and I had a with it, on some days. I'm playing such a bitch; why is she being such a killjoy? Why is this how you're portraying women? Ninety-eight percent of the time it was an amazing experience, but it was hard for me to love the movie." As expected, Heigl got massive heat from her castmates. However, as the years passed by, Heigl's behind-the-scenes behavior was slowly revealed. The actress's career didn't immediately die because of her comments regarding her thoughts on Knocked Up, but she wasn't pulling out hits following her breakout role. 27 Dresses, The Ugly Truth, Killers, Life as We Know it, New Year's Eve, One for the Money, and The Big Wedding were all critical misfires. Worse of all, a good majority of those films failed to be financial wins for the respective studios. You see, Katherine Heigl isn't the first actor to be difficult behind the scenes, and she likely won't be the last. However, the only reasons actors like Bruce Willis, Russell Crowe, Dustin Hoffman, or Edward Norton are able to get away with their reported behavior is due to the fact that they're well-known draws or have high accolades when it comes to prestige films.
Heigl's venture into romantic comedy territory wasn't a complete flop as The Ugly Truth, The Bounty Hunter, and 27 Dresses saw some good returns, but all of these films were featured on worst of lists and Heigl's box office returns continued to diminish. Her stint on Grey's Anatomy wasn't doing much better. Heigl criticized the show by withdrawing herself from the 2008 Emmy race since she didn't consider the material had warranted an Emmy nomination. As expected, Shonda Rhimes wasn't too pleased about the diss. She ended up being fired because being difficult outworn her welcome on the show. Long story short, Heigl's attitude just wasn't worth it. Kim Masters of The Hollywood Reporter elaborated further in regard to Heigl's unprofessional antics, and as time went on, the actor's career in the spotlight slowly faded away. While Heigl still remains in the business, there's no denying that the actress had the potential to be a huge star.
So did Katherine Heigl tarnish her legacy? Again, the former Grey's Anatomy star's career isn't completely dead, but Heigl is nowhere near the level that she should be. When it comes to the movie landscape, Heigl just hasn't done enough to labeled as one of the best actors of our generation. This isn't a shot at her talent. Heigl was great in Knocked Up and does pretty well in every other role that she's in but Knocked Up remains the only memorable thing she's done. Part of the issue is that Heigl made the mistake that so many actors who gain newfound fame do, which is she took whatever role that was paying her the highest amount. There's nothing wrong with that. Actors do work hard and should be fairly compensated for it, but the issue is that Heigl became involved in so many terrible movies that audiences lost interest in her films. This pattern is very reminiscent of Melissa McCarthy. The actress was a hot commodity at one point and then a string of terrible films hurt her credibility. The difference is that McCarthy has done more than one good film as a lead actor, plus she hasn't been branded as difficult behind-the-scenes. Obviously, Heigl's bad attitude has hampered the type of roles that she can get these days. So yes, her legacy has been tarnished because she's yet to really make a mark within the movie or television landscape. Sure, she has Grey's Anatomy, but again, her role isn't something that's gonna be remembered like Walter White (Breaking Bad), Tony Soprano (The Sopranos), or Elaine Benes (Seinfeld). It's not too late for Heigl to carve her name in history as one of the best actors on the planet. The obvious solution is that she needs a string of strong projects. Perhaps Heigl needs to entertain doing a lot more independent features for the time being.
Tell us what's wrong with this post? How could we improve it? :)
Let us improve this post!