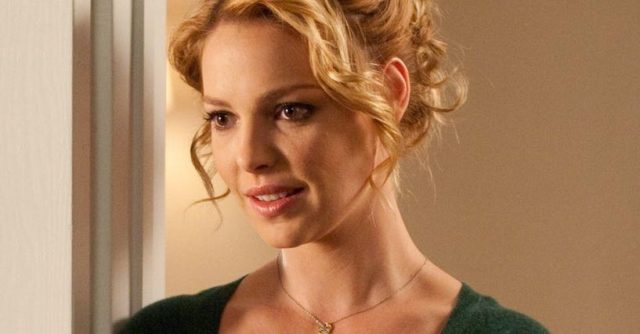 To be honest it really depends on if you like Katherine Heigl or not when it comes to how you feel about her since she's an award-winning actress that has been involved with more than one charity in her time, and yet she's also become something of a polarizing figure in show business since it's been said that she's kind of difficult to work with. Not only has she thrown people under the bus but apparently she hasn't been the easiest individual to have on set. This of course is all dependent on who you want to believe and how you interpret rumors and gossips that are tossed about the news media like a beach ball at an outdoor concert. The fact remains that her reputation has been kind of tarnished by such rumors as they've spread like wildfire, and her place in Hollywood's elite has been compromised as a result.
Here are some of her best movies to remind you that she actually does have some talent when she's on her game.
5. The Ugly Truth
When you've got a man that likes to tell it as it is and a woman that thinks she's got a firm handle on love there's bound to be a few sparks flying, and not always from a pleasant pairing that could work out for the two of them. Instead it's a battle of wits back and forth as Mike attempts to convince Abby that he knows what women want and he can help her to get the guy she wants by following his lead. What eventually happens however is that Mike ends up falling for her and Abby decides that the guy she wanted is not right for her since he wanted a woman that was acting the way she was instructed to act. With games like these it's a wonder that some folks ever find a relationship.
4. The Ringer
It's fair to say that there's a special place in hell for those that would rig an event like the Special Olympics. The only reason Johnny Knoxville's character even does this however is to raise enough money to help out a former coworker after he gets injured trying to help him out. The whole scheme is something that was cooked up by his no good uncle to pay off a gambling debt, but Steve is fortunately the kind of guy that has a conscience and can't go through with at the medal ceremony. Admitting to the lie he's disgraced and loses the woman he was falling in love with, but things do eventually turn out okay.
3. My Father the Hero
This was a rather bizarre movie since it involves a father and daughter pretending that they are a couple in order to make a young man fall for her and see her as a woman rather than a girl. You can imagine the assumptions and misconceptions that occur as the father plays along with it, but somehow it just seems kind of disturbing since you have to think that no self-respecting father would ever go through with this, at least not to an extent that would make people believe it. Maybe that's being too sensitive, but it could also be labeled as creepy and kind of gross when you really get to thinking about it.
2. 27 Dresses
It is entirely possible to do too much for people since Jane is the type of person that will bend over backward when it comes to planning out a wedding for others and will do everything to make it perfect. But when her sister decides to fall in love with the same man that she was in love with for so long and then becomes a veritable bridezilla in the process she's had enough and decides to get her payback. After the smoke clears they reconcile and Jane finds that she is in love with another man that she met and is tired of doing everything for everyone else and not taking time for herself.
1. Knocked Up
This is one of those pairings that you likely would never see in real life unless the circumstances lined up just right. This is a couple that might meet in a darkened bar after several drinks and think that it was simply good fun and that of course it was a good idea to go home together and get a little frisky. Of course when they have to own up to what they did the night before and then realize that she got pregnant things tend to escalate pretty fast. Give credit to Rogen's character however as he decided to step up and take care of the child and even make it work with Heigl's character. That's a positive message that came out of the movie.
Like her or not, Heigl is a good actress.