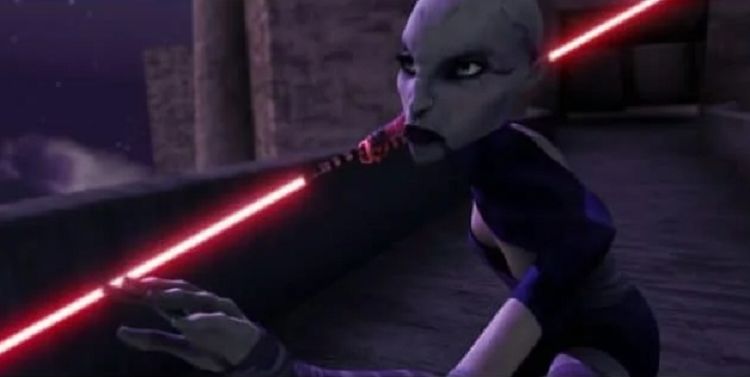 With three trilogies taken care of and several ideas on the way, not to mention a couple of shows that people were waiting for in a big way, it feels as though it's possible to start exploring various characters that have made up the fabric of the Star Wars universe in ways that have been fleshed out but not showcased yet. Asajj Ventress has been shown quite often when it comes to the animated Star Wars universe, she has yet to be introduced in a live-action movie or show. if there's ever been an Easter egg featuring her, then it's well-hidden since the talk of Asajj is next to nothing. The animation that's been delivered thus far has been fun since her fights with Obi-Wan Kenobi and Anakin Skywalker are impressive given that it shows how skilled Asajj really is. What is known of the character at this point is that she was an assassin, she was skilled in the Force, and she was one of Count Dooku's tools, meaning that she was a tool of Palpatine as well. It does feel fair to say that the emperor didn't regard Ventress as a valued asset.
The ways of the Sith are a bit confusing at times since one has to admit that they're deceitful and grasping enough that they're bound to turn on each other more often than not. Ventress was a rather conflicted character for much of her time in the franchise though, and it would be fun to see a story created concerning why this was, and how she became the person she was. This story is well-documented in the Star Wars storyline, and it's fair to think that it would be simple enough to keep within the canon and not force a retcon of any character or a particular story. As a self-contained story, it feels that this would be great as a limited series that would show how this character became the danger she was.
At times it feels as though Asajj was underrated since she often had to contend with General Grievous for the attention of their master, Count Dooku. She was a deadly opponent, but it appeared as though she had a definite limit to her skills and couldn't fully match Obi-Wan or even Skywalker at their best, which means that her strength in the Force and as a combatant had set limits that were given no chance to increase. As a tool in Dooku's arsenal, she was more or less set up for failure time and time again, even though it feels clear that she might have been able to eliminate Grievous if she'd been given the permission. Seeing Asajj as a villain wasn't tough, but seeing her as something other than an antagonist is also very easy since her history indicates that she never had a fair shake at life and, apart from her Jedi training, she was meant for a life of hardship and disappointment. Even when she embraced her heritage it was apparent that things weren't bound to get easier. it would be great to see Asajj's story to gain a better understanding of how she fits into the franchise, and how she eventually became worth remembering.
Her story might shine a light on others that could become worth looking into since there are other characters within the Star Wars franchise that might be seen as interesting enough to warrant a limited series. When thinking about the Jedi and various other characters that she's interacted with, it's easy to think that Ventress might create a great deal of interest that could help to round out her own corner of the franchise. Who to cast as a younger version of Ventress would be a question of who might be able to look severe as well as innocent early on, since Ventress is the type of character who, over time, became a truly nightmarish individual that was well-known for her cruelty and her ferocity. But there was a time when the fierce warrior was someone that had hope since being rescued and trained by a Jedi was enough to set her on a positive course, at least until her master was killed. After that, it was too late.
Asajj's fall to the dark side was swift and unchecked since there was no one around to help her, no other Jedi to steer her down the right path. But before this, she had a life that was unbearably tragic and had a chance to be turned in a direction that would serve her far better than what happened. It might even be acceptable to create the type of What If story that might see what happened if Asajj became full-fledged Jedi rather than giving in to the dark side. A story detailing this character's life could be a great addition to the overall franchise.