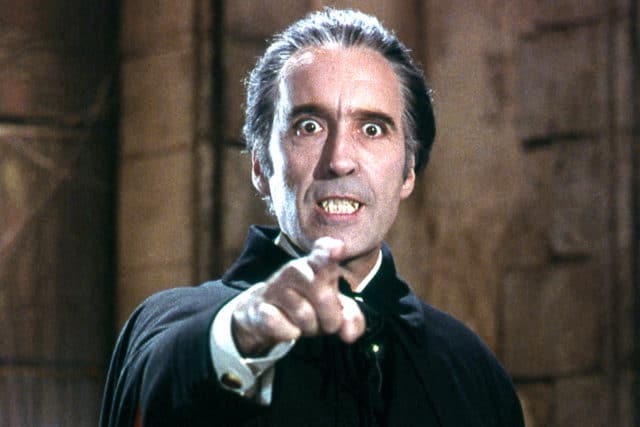 In such an iconic contest between two of the best to ever suit up in the garb of the dreaded Count Dracula, this is perhaps one of the closest matches ever. Christopher Lee in his prime and Gary Oldman were two of the absolute best representations of the dreaded bloodsucker from legend that it's hard to tell on the outset just who did it best. There are factors to include as well considering the lack of special effects in Lee's days versus Oldman's role as the dreaded vampire lord. Also, the time period that lies in between their performances is so great that audiences had come to expect something over the top and larger than life by the time Oldman had come around. So let's take a tally shall we?
In a contest to see who played Dracula better, who wins, Christopher Lee, or Gary Oldman?
Lee was far more vintage.
Christopher Lee donned the black cape with the red interior lining, had the slicked-back hair, and the penetrating glare of the dreaded count. He did not mince the look with any more makeup than was necessary and stayed true to the iconic role. In contrast, Oldman donned a rather ridiculous-looking wig and makeup to give the impression that he was nearly ancient. He would eventually show a much younger persona, but it was based more upon the legend of Vlad the Impaler rather than the icon that was Dracula. Point, Lee.
Oldman was far smoother in his delivery and luring people in.
Both Dracula's hospitable to their guests, but Oldman wins the edge just slightly for allowing his "brides" the chance to play with his guest. Lee would actually help his guests with their luggage, but was not quite as smooth in his manner as Oldman. He was able to woo both Lucy and Mina with but a glance while Lee had to work just a little harder to lure his prey forth. Point, Oldman.
Their powers were not equal.
To be fair Lee did not have the benefit of the special effects that Oldman did, but his power set was still never fully realized in his own time. Oldman had the capability of turning into mist, then into a wolf form, and then into a bat form as he needed. He was also immeasurably strong and insanely durable against many forms of attack. The downfall of both however was of course the fact that they could not bear sunlight and were very vulnerable to common, everyday things that might not bother a human but would greatly upset a vampire. Oldman however showed himself to be far tougher as the count and thus eclipsed Lee in this regard. Point, match, Oldman.
Old school fans of Dracula might cry foul at this. It's understandable since both actors belonged to different time periods and Lee did in fact play the count nine different times. Oldman only played Dracula once, but he nailed it with such mastery that his performance has been remembered even in this day and age. To be fair, so has Christopher Lee, but with slightly less reverence. Guess who could top them both if the playing field was leveled? Yep, that's right, the famous Bela Lugosi.
Save