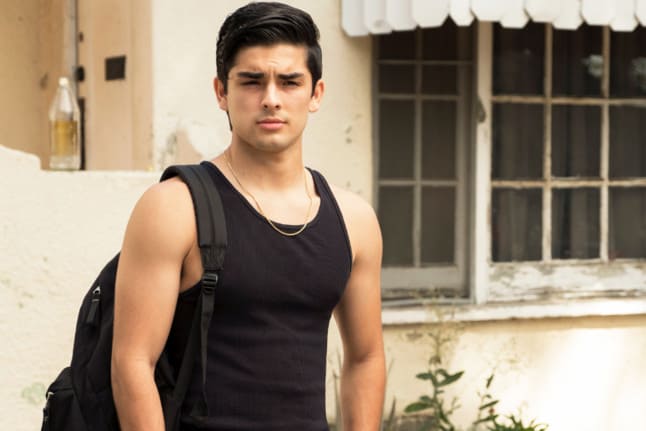 Diego Tinoco seems like a rather optimistic individual that's been on the scene for a little while now and has gained more than enough recognition to be a well-known actor by at least one or two generations and a great number of fans. He has a decidedly positive outlook on life even though he tends to balance it with the knowledge and experience that he's gained by being a part of the industry, using this to protect and promote himself as someone that's a great deal more worldly than many people his age claim to be. Having the kind of famous background he does now it does seem as though he's a rather humble and caring person that loves what he does but wasn't always bound and determined to take his place in front of the camera. In fact it almost seems like just fell into it.
Here are a few things you might not know about him.
10. He stars in Teen Wolf.
This is not the Teen Wolf that a lot of us might remember from the movies with Michael J. Fox and Jason Bateman. This show was something a lot more serious and a lot deadlier than anything that came before it. In fact there were so many different types of werewolves that it was hard to keep up with for a bit.
9. He has a massive following on social media.
There are over 800 thousands followers on his account which is kind of insane but impressive at the same time since it means that many people know who he is and want to follow whatever it is that he's doing on Instagram, Facebook, and so on.
8. He's 20 years old.
He's young enough to still have a long and storied career, perhaps enough of one that we'll be writing about him for years to come and seeing a biopic or something similar in a couple of decades depending on what he does with his life.
7. Acting was something he simply tried at first.
He really didn't seem to have any interest in making it a career at first as he decided to try acting and see if it was any fun. But obviously it seems that he tried it, liked it, and though it was a good idea to keep pursuing a career.
6. He would like to be a musician sometime in the future.
That might be an interesting transition to see as he wouldn't be the first or even the last actor to decide that he wants to sing and perform on stage in front a live audience. If he's got the musical talent then it should be something he at least considers doing at some point.
5. He cites Leo DiCaprio as his inspiration.
It's kind of a wonder just how many people looked to Leo and really decided to get into acting because of him. There are a lot of celebrities that get credited with being the inspiration for one or many people, but Leo does seem to get a lot of attention in this department.
4. He had a skin condition that occurred while he was growing up.
At one point Diego had a condition known as vitiligo, which made his skin develop a patchy appearance with the patches being lighter. He used to wear long-sleeved shirts a lot to hide it away. This condition isn't as rare as it might sound and in fact it's quite common.
3. He typically wears clothing that allows him to hide while he's in public.
He'll wear long-sleeved garments with hoods and a cap when he's in public to enable himself to move around without having to be mobbed by people. But if he is recognized he's not shy about taking a photo with a fan or giving an autograph apparently. It's all a matter of how the fan approaches him it would seem.
2. He's focused on his career at this point in his life.
What this means is that he's not actively trying to date and that he's focused on his career and making the most he can out of it. Relationships aren't a bad thing but now and again they can distract a person since they do take a lot of work at times and can take away from the point of creating what the individual wants for their future.
1. He advises caution when coming to Hollywood.
This is possibly one of the best bits of advice that anyone could give it sounds like. Hollywood is a grand and wonderful place since it does give a lot of people great opportunities. But it's always wise to know who you can trust and who you need to be weary of when in show business as it's been seen throughout the years.
He's a promising young man that seems to have his head on straight, and that's usually one of the best ways to be.