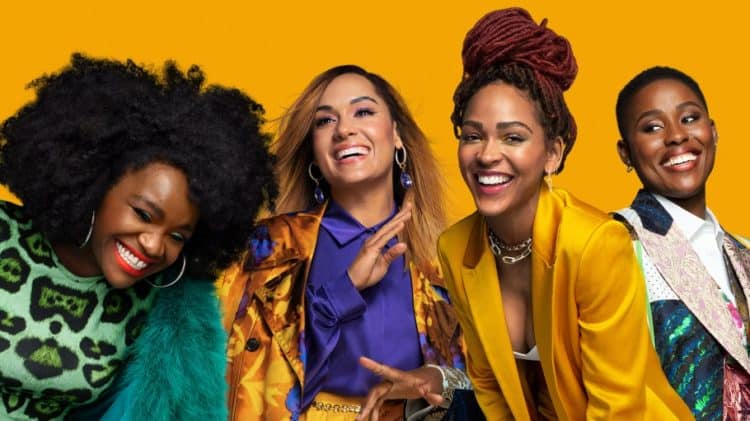 Every once in a while a show comes along that quickly grabs people's attention, and Harlem is currently one of those shows. Released on Amazon Prime in December of 2021, the series centers around a friend group of Black women who live in Harlem. While the show will certainly make you laugh, it also touches on some very heartfelt topics as well. Since its release, the series has been seen by people all over the world, and many feel that Harlem is exactly what the TV industry needed. If you're looking for something to watch (especially if it isn't a reboot or a spinoff) consider adding Harlem to the list. Keep reading to learn 10 things you didn't know about Amazon Prime's Harlem.
1. The Series Has No Shortage Of Great Fashion
If there's one thing Harlem does very well (other than keep viewers entertained), it's serve numerous looks in a single episode. From streetwear to formal attire, Harlem has a little bit of everything. Plus, one of the main characters in Harlem is a designer who owns a boutique, so you can bet that her style game is on point.
2. The Series Has Been Compared To Sex and the City
Sex and the City is easily one of the most iconic TV shows of the late 1990s/early 2000s. Needless to say, any show that is compared to Sex and the City should consider it an honor. Even though Harlem is still in its first season, people are already drawing comparisons between the two shows.
3. The Show Has Gotten Some Backlash
Most of the feedback about Harlem has been positive, but there is one scene in particular that has been getting lots of criticism. In one episode, Tye, a masculine-presenting lesbian, visits her regular barbershop for a haircut. Not long after, a new barber comes into the shop and starts sharing the details of one of his recent sexual encounters. After he begins using offensive language, Tye chimes in and asks her barber to say something. Many felt that the scene unfairly depicted Black men and barbershop culture, they also felt like what happened in the scene was very unlikely to happen in real life.
4. The Renewal Is Still Up In The Air
With one successful season already on the books, lots of people are already looking forward to season two. Unfortunately, there hasn't been a renewal announcement yet. So far, though, everything seems to indicate that the series will be coming back for another season.
5. The Show Was Filmed In New York City
There are lots of movies and shows that claim to be set in New York City but aren't actually filmed there. Fans will be happy to know that that isn't the case with Harlem. The show really is filmed at various locations throughout New York City, and this definitely helps add to the show's authenticity.
6. The Series Has A Connection To Girl's Trip
Harlem was created, written, and executive produced by Tracy Y. Morgan. Prior to that, she co-wrote the popular 2017 movie Girls Trip. Some of her other writing projects include TV shows like First Wives Club and Survivors Remorse and the movie Little. It'll be interesting to see what kind of project Tracy trackles next.
7. You Can Follow The Show On Social Media
There are lots of people who enjoy following their favorite movies and shows on social media because it allows them to see additional content and stay updated on what's going on. Those kind of people will be excited to know that Harlem has its own Instagram and Twitter accounts.
8. Some Aspects Of The Show Were Inspired By Tracy Y. Morgan's Life
Most of the best fictional stories are rooted in a little bit of truth, and that's certainly the case for Harlem. When Tracy Y. Morgna began writing the script for the show, she was at a challenging point in her life. She had never sold a script and she was feeling a little down. On top of that, she was trying to cope with feelings of an ex getting engaged to someone else which is something we see happen to Camille (Meagan Good) during the first season of the show.
9. Some Of The Cast Members Have Worked Together Before
Harlem features an awesome cast full of talented people, some who have shared the screen before. Meagan Good and Robert Ri'Chard were cast members during the 1990s and early 2000s on the Nickelodeon series Cousin Skeeter. Being in that show was instrumental for their young careers.
10. The Show Highlights The Realities Of Gentrification
On the surface, Harlem is a show about a friend group of Black women living in Harlem and dealing with the ups and downs of every day life. However, the show also touches on other things including how gentrification is displacing Black and Brown people in major cities.
Tell us what's wrong with this post? How could we improve it? :)
Let us improve this post!