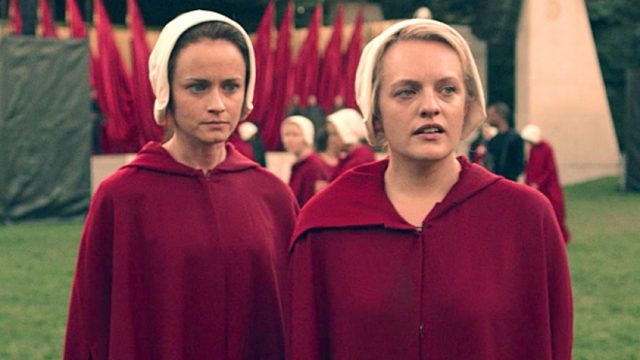 By now a lot of fans have expressed what they feel for good or ill when it comes to the Handmaid's Tale, but apparently there are still a few questions that are left uncovered, at least until. The burning question for this article is what's really under the cloaks that the female cast members wear. It might sound like a very personal question but a lot of people have finally decided that it's a worthy one since it bears examining. Keeping in mind that the show is being filmed up in Canada where it can get quite cold in some regions it's not too much of a surprise that some of the women have said that they either wear granny panties that cover nearly their entire abdomen or resort to wearing multiple layers of long johns to stave off the chill. Some of them even manage to tape heating packs to their bodies to keep warm as the cloaks don't do much for warmth in the colder climate in which they film.
One good thing about a cloak though is that it's very concealing so that whatever the women are wearing beneath doesn't show so easily. In some shows and movies that are filmed in colder climates it's nearly impossible to hide anything in one's wardrobe since the clothes are either too tight or just not tailored right to keep from revealing any such things as heat packs and insulated clothing. It kind of messes with the production when you can see something shifting beneath a person's clothing when there should be nothing there but skin. But on the other hand it's not exactly wise to make your stars freeze while trying to get the shot. In some cases there's not much choice since the scene kind of calls for it, but in a story like the Handmaid's Tale there's a very big need to keep everyone warm between takes.
Normally people will do what they need to do for a role and to make sure they nail a particular scene the way it needs to be. But in between takes and even during takes when it's allowable people need to be kept warm and the women of this show have definitely found ways that at least keep them somewhat comfortable. You can just imagine that wearing the cloaks and some sort of common clothing underneath would make them all miserable when shooting in the colder regions. The idea of wearing multiple sets of long johns doesn't really appeal to a lot of people but that changes rather quickly when it comes to being cold and being able to actually walk around without shivering with every step. The granny panties don't seem like they'd be that warm but maybe there's something women know about them that men don't, aside from the obvious.
Anything that could be used for warmth in this instance seems like it would be a good thing. It might even be that if the women could wear a warm jacket under the cloak they'd try to make it work. Somehow that might be noticeable though.