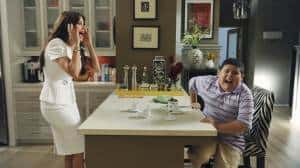 Last week, Modern Family, took a potentially controversial topic, a gay kiss, and addressed it with aplomb and grace. Not every episode, though, needs to tackle "important topics." Rather, it is sometimes preferable if the show, like any good sit-com, just delivers funny dialogue and situations that makes the audience laugh. This was the case with "Earthquake," an episode I found to have the highest jokes-per-minute ratio of the season, and really for quote some time in the series. No, this wasn't a perfect episode (really, did we need another treacly voiceover at the end?), but overall, I spent most of the half-hour laughing pretty hard.
As far as the plot was concerned, an earthquake strikes, leaving Claire locked in the bathroom, giving Mitchell and Cameron an excuse to not attend their friend Pepper Saltsman's(!) brunch, and leading Manny to have a crisis of faith. Despite Jay's voiceover telling the audience at the end of the episode that earthquakes and other calamities allow us to reflect on what really matters in life, really nothing that occurred in the episode addressed that theme. Instead, a bunch of really funny lines were said and a lot of funny actions were taken. For me, that's fine. I don't need to always have a deeper meaning to my comedies. Some of the highlights were the callback to the faulty step that plagued the Dunphy home in season one, Gloria and Cameron's reactions to hearing Mitchell say "We lost Phil" when Phil's call to Mitchell was dropped, Mitchell's mocking Cameron's "lost at sea" moment after the death of Princess Diana, everything involving Pepper (what can I say? I'm a Nathan Lane fan.), Luke's run into the wall, and Manny's freak out over butterflies in Heaven during the episode's tag. All of these moments (and others, of course) had me laughing pretty heartily throughout the show, which is exactly what a sit-com is supposed to do.
If there was any weakness in "Earthquake," however, it was the creators' constant need to make the show be about something "more." They do this every week, so I shouldn't be surprised, but what I have found is that when the show places a theme over the episode, but the whole family isn't together, the theme falls flat. Take last week for example. The episode concerned the outward display of affection, and all three family units were separate for the first three-quarters of the episode. Each dealt with the theme separately, until they were all brought together in the end for the Jay/Mitchell father/son kiss. For me, the voiceover summary in this episode worked better then usual. Perhaps I'm just a sucker for large families being happy, but what I think is really at work her is the fact that merging the separate stories makes them all feel like they have the same purpose, the same raison d'etre.
When the stories remain apart for the duration of the episode, the audience is forced to evaluate each plot separately as to whether the theme was effectively illustrated in each, as opposed to the episode as a whole. If any of the plots falls short, it makes the lilting music and voiceover ring hollow. Such was the case this week: the Manny/Jay story hit on the "realize what matters" theme, but the other two plots really didn't. Yes, there was an attempt to shoehorn the theme into the Claire story with the quick shot of Claire talking to Haley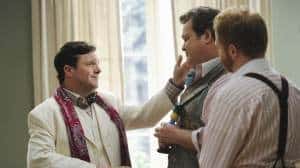 (because Claire realized she, Haley and Claire's mother are all alike), but I never felt that was what the Claire story was about. The Claire/Jay/Dunphy kids and Mitchell/Cameron stories were really about lying, but I can hardly say those characters learned anything from their lying because none of them were discovered. So, having seen those plots come to an end, and then having the voiceover tell the audience that appreciating what matters was what the episode was all about, a disconnect occurs, making the conclusion seem off.
As I have noted in my recaps from last season, and in this season's reviews, I have always found the voiceovers a little off-putting, but in some episodes more so than in others. Further, I have always found episodes where the whole family is together to be more satisfying than those when they are apart. I never put the two feelings together until this week, so I will be interested to see if my new theory holds true going forward. Again, I really did like this episode. As I said above, I was laughing pretty much throughout the whole half hour, mostly because of some really funny lines. Here are a few:
Haley: I have been studying all weekend. No friends. No phone. Just me alone with books. I feel like Alex.
Alex: You're never alone when you have books!
Claire: …These are the SAT's, not some stupid science quiz.
Alex: If science quizzes are so stupid, why do you hang mine on the refrigerator?
Haley: Because we feel sorry for you because books are your friends.
Phil (after Haley asks him for permission to go to the party): Oh no, I'm not stepping into that one. We're not playing "Good Cop/Mom."
Mitchell: [Pepper] did the impossible: he made two gay men hate brunch.
Cameron (dressed for Pepper's "Oscar Wilde and Crazy Brunch"): We're gonna die! We're gonna die!!
Mitchell: Better not. If they find us in these outfits it will be very bad for the gays.
Manny: Can I come with you to play golf?
Jay: I was probably going to have a Latino kid carry my clubs anyway, it might as well be you.
Alex (explaining to Claire why Phil hadn't let her out of the locked bathroom): Dad was incredible. He was running around here turning off the gas line. Cleaning up broken glass. Taking care of Luke after he ran into a wall.
Luke (who ran into a wall after escaping a cabinet that almost fell on him): I got scared because the cabinet didn't fall down.
OK, that's what I've got for "Earthquake." What did you think of the episode? Did you find it as funny as I did? How do you feel about the voiceovers and stated themes? Does Modern Family need to do this, or can it just be a funny comedy every now and again without "teaching" the audience something? Please leave your questions and comments below. Don't forget to follow TVOvermind at twitter.com/tovermind and me at twitter.com/MikeNJD. I'll be back next week with another review. Until then, I'm off to win a Hollerin' Contest.