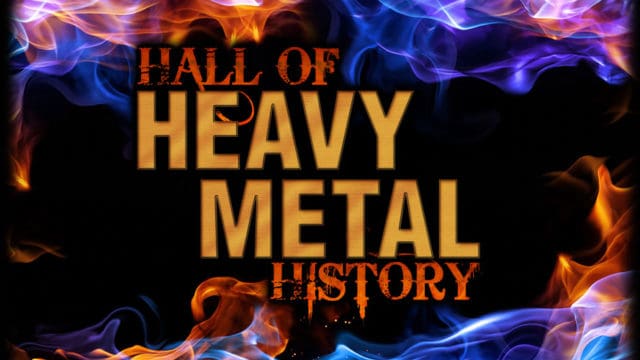 January 24, 2018 is the date set for the 2nd Annual Hall of Heavy Metal History Awards Ceremony. It will be held at the Wyndham Anaheim Garden Grove, California. The Induction Ceremony will take place from 8pm to 11pm with a special concert by the Carmine & Vinny Appice Band mid-ceremony from 9:30 to 10pm. Carmine's Induction will be conducted by Vinny; and to add to that memorable moment, the list of 2018 Inductees is quite spectacular. Bill Ward, Anvil, Elliott Rubinson, Riot, Exodus, Sammy Ash, Jordan Rudess, Billy Sheehan, Nick Menza, Lzzy Hale, Munsey Ricci and Metal Mike Chlasciak will be inducted.
In addition to the Red Carpet, Cocktail Reception with Budderside Band performing, and a VIP Meet & Greet scheduled, there will be surprise guests and additional artists appearing at the event. It all promises to be a stellar evening with the greats of heavy metal representing some of the most iconic bands. These musicians are known for their work with Black Sabbath, Megadeth, and Halestorm; to name a few. The Appice brothers alone have forged their drumming fame. Their performance will be amazing.
Even more surprising is that the Hall of Heavy Metal History honors not only the musical greats of heavy metal; but is also dedicated to helping children in their fight against cancer. The Hall of Heavy Metal History is one division of Drums and Disabilities or simply, D.A.D. This 501 (c)(3) non-profit organization has worked for more than a decade to create outreach programs using drumming to help children live healthier, happier lives.
Supported by a wide network of participating musicians, teachers, special needs therapists, neuroscientists, doctors, celebrities, law enforcement and government agencies, D.A.D. has held programs in more than 15 countries. The organization has a special drumming program which helps disabled children, special needs adults, and wounded U.S. troops worldwide to deal with illness and stress.
The Hall of Heavy Metal History is bringing awareness about these needs to the public in a one-of-a-kind way. The organization was founded by Pat Gesualdo, whose Drums and Disabilities therapy program was released in kit form so that its award-winning techniques would be available in classrooms and home offices. The Drum Therapy Kit was made available in 2010 to help children and adults with ADHD, ADD, Autism, Cerebral Palsy, Dyslexia, Asperger's, Tourette's and other conditions. Drumming helps strengthen kinesthetic, visual and auditory learning.
Counted among the celebrities and community leaders who have supported D.A.D. are the New York Giants, The WWE Superstars, The New Jersey Education Association, the administration of New York City Mayor Michael Bloomberg, Senator Anthony Bucco, The South Bergen Jointure Commission, the New Jersey Nets, Sony Music Entertainment, Pepsi-Cola, The Cerebral Palsy Centers of New Jersey, and many, many more.
It's a natural evolution to connect Drums and Disabilities with the Hall of Heavy Metal History. What a seemingly incongruous, yet serendipitous pairing of two drumming themes… Would-be skeptics claiming that flamboyant and loud drumming is deleterious to the human condition, may need to consider a new perspective about the power of music to heal. When the newest Inductees gather to celebrate music, those who need and appreciate the healing power of drumming will benefit, too.