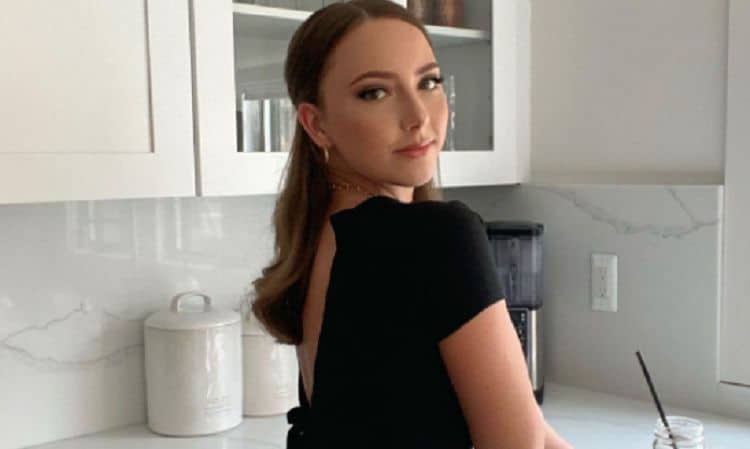 If you're a hip-hop fan, you've probably heard the name Hailie Jade at least a few times. That's because her father, Eminem, has name-dropped her in some of his songs. In fact, being her father appears to be the thing that Eminem is the proudest of. Since a lot of his music is biographical, his listeners got to learn some of the details of Hailie's early years, but now that she's grown up and doing her own thing, she's writing her own story. Although she has avoided the spotlight for many years, Hailie has made it very clear that she has what it takes to become a star if she so chooses. Continue reading to learn 10 things you didn't know about Hailie Jade.
1. She Is 25
If you've been an Eminem fan since early in his career, you'll probably feel really old by the fact that Hailie is 25 years old. While none of us technically watched her grow up, I think a lot of us can remember when she was the little girl in the photo tattooed on her father's arm. Before you know it, we'll be writing an article about Eminem's grandchild.
2. She Is A Social Media Influencer
Having a famous parent comes with its perks, and one of them is that it's usually pretty easy to build a social media following. Hailie Jade's online presence is very impressive. She has more than two million followers on Instagram and she also has more than 94,000 followers on TikTok. Her follower count is only going to grow in the years to come.
3. She Loves Fashion
Hailie has grown up to be quite the fashionable young lady and she enjoys expressing herself through her clothing. She also loves sharing her style with her followers. Recently, she got a lot of attention from the blogs after revealing some of the items from her spring shopping haul on social media. Maybe one day we'll see her do her own thing in the fashion industry.
4. She Is Fairly Private
Despite being the child of a very public figure, Hailie has never been one to put her entire life on display. In fact, she has done just the opposite. Outside of being active on social media, she has never really let the world in on her personal life and she seems to enjoy staying low-key. If there's one celebrity kid you'll probably never see on reality TV, it's Hailie Jade.
5. She Is Close With Her Dad
Despite the fact that Eminem and Hailie's mom, Kim, had a very turbulent relationship that involved Eminem publically saying some disparaging things about Kim, he and Hailie have always maintained a good relationship. Em seems very supportive of his daughter and proud of everything she's accomplished.
6. She Is A College Graduate
A lot of things about Hailie's life have been drastically different from other people's, but she has tried to have some 'normal' experiences. She attended Michigan State University where she studied psychology. However, it doesn't appear that she has ever worked in that field.
7. She Has A Boyfriend
We do know that Hailie is in a relationship, but she hasn't shared much information about her boyfriend, Evan McClintock. From what the couple does share, however, they seem to be going strong. Most people's biggest question is whether or not her father approves, and by the looks of things, the answer is yes. It doesn't appear that Evan is active on social media.
8. She Has Siblings
Hailie is the only child from her parent's relationship, and she's Eminem's only child overall. However, she does have half-siblings on her mother's side. She has a sister named Whitney who was adopted by Eminem, and a younger brother named Parker Scott. There isn't much information out there about Parker Scott or Hailie's relationship with him.
9. Her Relationship With Her Mom Is Unclear
While we know that Hailie and her father are tight, less is known about her relationship with her mother. After her breakup with Eminem, Kim essentially disappeared from the spotlight. Unfortunately, she had some addiction and legal issues over the year which may have ultimately caused a rift in her relationship with Hailie.
10. She Doesn't Have Plans To Work In The Entertainment Industry
If Hailie wanted to do something in the entertainment industry, she could easily use her connections to get opportunities. However, it doesn't appear that she's interested in doing anything in the industry. Instead, she seems to be focused on building her online presence and she hasn't yet shared her plans for the future.
Tell us what's wrong with this post? How could we improve it? :)
Let us improve this post!