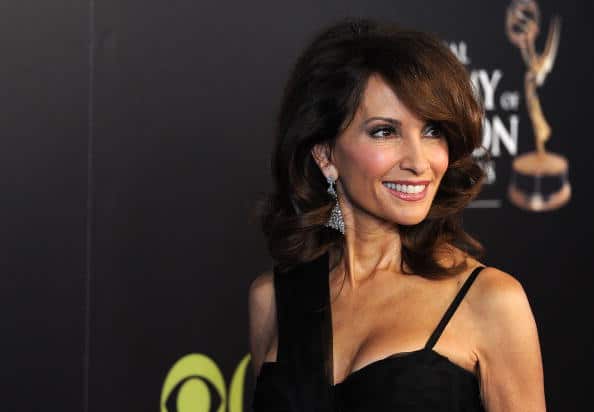 TV Land, the network that let's us relive our past by airing our favorite old shows, announced some startling news earlier this week. The network will be ending its popular sitcom Hot in Cleveland at the conclusion of the sixth season, which is currently in production. The series premiered on June 16, 2010 and became the first scripted show for the network. Since then, TV Land has produced other comedies including The Exes, Happily Divorced, and The Soul Man.
Hot in Cleveland was a success for the network and revitalized the careers of its four leading ladies: Valerie Bertinelli, Jane Leeves, Wendy Malick, and of course Betty White. The show has made over 100 episodes and has featured many famous fcelebrities including Tim Daly, Jennifer Love Hewitt, and Craig Ferguson.
But who has guest-starred the most? TV Overmind did some research to find out which of your favorite actors and actresses has appeared the most times on Hot in Cleveland. Did your favorite star make the list?
Susan Lucci as Susan Lucci
Susan Lucci is referred to countless time on Hot in Cleveland, but the actress has only appeared 5 times. Lucci plays an exaggerated version of herself and is the nemesis of fellow soap opera actress Victoria (Malick). Lucci made her first appearance in the season one finale in 2010. She would next be featured in a two-part episode in 2011 when the girls visit Los Angeles. Lucci is currently starring on the Lifetime drama Devious Maids.
Craig Ferguson as Simon
Ferguson first appeared as Simon in the season four finale of Hot in Cleveland. He is the father of Joy's (Leeves) son and she has not seen him in over 32 years. The couple end up reconciling, but Simon breaks her heart again. However, Simon does return in the season five finale to propose to Joy. She accepts, but soon finds out that he is already married to someone else. Ferguson has appeared in 6 episodes of the comedy. Additionally, Ferguson recently appeared on two episodes of Web Therapy.
John Mahoney as Roy
John Mahoney and Jane Leeves spent 11 seasons working together on the NBC sitcom Frasier. Fans of the show were thrilled when Mahoney made his first appearance as Roy in the season two episode, "Unseparated at Birthdates." His next appearance would be the following season when the girls go funeral crashing in order to find Melanie's (Bertinelli) lost dress. Roy becomes a boyfriend to Elka (White) and in total would appear in 6 episodes of the series. Prior to appearing on Hot in Cleveland, Mahoney was on one episode of S#*! My Dad Says with William Shatner.
Dave Foley as Dr. Moore and Bob
The creators of Hot in Cleveland loved Dave Foley so much that they had him play two different characters on the series. The News Radio star appeared in one episode during the first season as Dr. Moore. Victoria (Malick) pretends to have a fake illness to gain more sympathy from the Emmy voters. She goes to visit Dr. Moore to discuss her condition. Three years later in 2013, Foley returned to the series as Bob a private investigator, who Joy (Leeves) works with during her internship. The two become more than colleagues and he is one of the three men who proposes to her. Joy does not choose him so he ends up bedding Melanie (Bertinelli).
Alan Dale as Emmet
If you become a love interest of one of the lead characters on Hot in Cleveland, you are sure to appear in many episodes. This was the case with Alan Dale, who played Emmet the love interest of Victoria (Malick). Emmet is a famous actor that is starring in a movie with Victoria. The two become close on set and eventually tie the knot while Emmet is in prison. Emmet ends up escaping from jail and running from the law leaving Victoria along again. Dale appeared in 8 episodes and was most recently seen in the series Dominion.
Carl Reiner as Max
Carl Reiner is almost the oldest person to have appeared on Hot in Cleveland. He is just three months younger than star Betty White. Reiner appeared as Max in 8 episodes of the series between 2010 and 2014. He was featured in the third episode of the series. The girls go on horrible blind dates except for Elka (White), who met Max. The two have had an on-again off-again relationship over the last four years. He last appeared on the season 5 finale that aired in September 2014. Reiner has recently been on Parks and Recreation and several episodes of Two and a Half Men.
Jay Harrington as Alec
Jay Harrington has appeared on countless television shows including Desperate Housewives, Private Practice, Better off Ted and The Ghost Whisperer. The actor has been featured on 11 episodes of Hot in Cleveland from 2012 to 2014. He first appeared in the season four premiere, "That Changes Everything." Melanie (Bertinelli) meets Alec when she goes to a job interview and has a conversation with him in an elevator without her blouse or shoes on. Melanie and Alec end up dating but then break up. She thinks she is pregnant, but it turns out she has cancer. Harrington is currently starring on the USA comedy Benched with Happy Endings' star Eliza Coupe.
Georgia Engle as Mamie Sue
It should be no surprise to Hot in Cleveland fans that Georgia Engle, who plays the hilarious Mamie Sue, has guest starred in the most episodes. To date, Engle has been featured in 15 episodes, including the live episode that was filmed earlier this year. Engle made her first appearance in the season three episode, "Everything Goes Better with Vampires." In the episode, the police have enforced a neighborhood lock down. The girls are trapped in the house with their guests. Elka (White) has Mamie over because they are rehearsing a play. Rick Springfield and Rhea Perlman also appear in this episode. Engle is a familiar face. She has appeared in The Sweetest Thing, The Office, Everybody Loves Raymond, and Mary Tyler Moore which featured Betty White.
Who is your favorite actor or actress to appear on Hot in Cleveland. Let us know in the comments section below.
Photo by Frazer Harrison/Getty Images