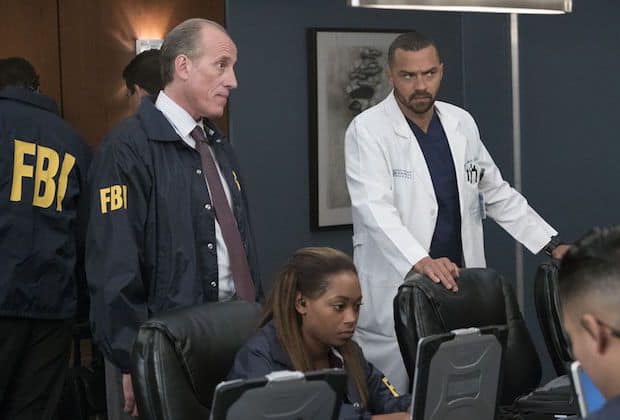 There's been enough pain and tears on Grey's Anatomy. It's time to get back to the fun. There is a different vibe in the hospital. The interns are bright and bushy-tailed (because their souls haven't been crushed yet), and the Attendings see only possibilities ahead. Everyone is saying "Yes!" to life. That's all well and good, until something or someone comes along and slams you into the wall. Inspired by true events, the midseason finale of Grey's finds the doctors struggling not to panic when their computer system is taken over by hackers. Everyone is afraid of the little geeks who hide their terrorism behind a computer screen, as if their actions don't endanger human lives just because they can't be seen. That's exactly what happens. The faces that you don't see, and even the one that you do, can blindside you and endanger people's lives. No one knows this more than Jo. By the end of the hour she is caught between her old life and her new one, and she didn't see either one of them having the power to hurt her.
With Ben switching careers, Jo is next in line for Chief Resident. First, she has to prove herself to Bailey. Jo needs to prove she can be a strong, effective leader, particularly under immense pressure. The interns are babies. They don't know anything. They barely know how to communicate. That is made even tougher by the hacking. It's the doctor's jobs not panic. If they panic, then their patients panic, and that puts everyone in greater jeopardy. Everyone is put in positions they don't want to be put in. Meredith has to convert from a laproscopic to an open procedure with a shaky intern. Arizona has to deliver a baby with Carina in a hallway, Owen has to fight to get a simple scan, and Jackson and Maggie have to transport an unstable patient to another hospital for risk of the power going out. All the while, Bailey is trying not to lose her cool.
The reason the hackers targeted Grey Sloan is because of the contest Bailey and Jackson announced. With that large amount of money on the line, the hackers knew they the hospital was an easy target. However, the FBI knows that if they submit, it will happen to more and more hospitals who don't have the same resources and benefactors as Grey Sloan. Thank goodness for Dr. Webber. While everyone is panicking, he is actually having fun! He's the one doctor in the hospital who knows how to run tests without monitors or medications. But things get to a point where no one is smiling.
Too many people's lives depend on the technology in the hospital. Bailey has to make the call, but there's no guarantee that Jackson will be able to transfer the funds in time to save anyone. Poor Jo wears herself out literally running miles in the hospital to verify who got what drug and what scan when. There's only one thing that could possibly stop her from getting to her patient: her husband.
Matthew Morrison has officially landed in Seattle. Brace for a terrifying ride.
Grey's Anatomy Season 14 Episode 8 Review: "Out of Nowhere"
Summary
Grey's Anatomy pulls from the headlines for its midseason finale, with one all too real, terrifying cliffhanger.