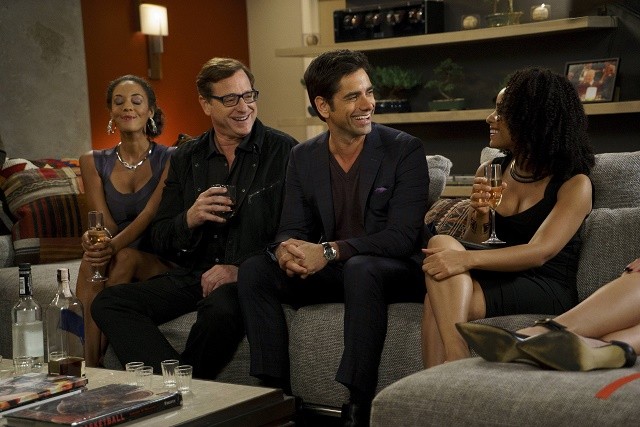 I'm starting to wonder if those final few episodes that Grandfathered aired in 2015 were a fluke, because the show's first two installments of the new year have been incredibly lackluster. While last week's "Perfect Physical Specimen" had its moments, tonight's "The Sat Pack" was pretty much devoid of all the charm, humor, and heart that Grandfathered displays when it's on its A-game. Instead, we were given an unnecessary (and unfunny) guest spot by Bob Saget as Jimmy's old friend Ronnie, while the show hammered down the same message it's been peddling since its pilot: Jimmy loves his family.
"The Sat Pack" really had the potential to be a unique episode of Grandfathered. The show diving into Jimmy's past and introducing us to his friends (that aren't celebrities) could have helped paint a clearer, less cliched picture of who exactly Jimmy used to be and why he's so different now. Instead, the comedy delivers a half-baked, reused plot about how Jimmy needs some time away from his family…only to bring him right back to them once Sara texts him about her break-up with Bruce.
Even more frustrating than the recycled storyline used in "The Sat Pack" is how Grandfathered doesn't even provide us with a proper goodbye to Andy Daly's character, nor with a long enough or strong enough scene between Jimmy and Sara. Of course there's chemistry between John Stamos and Paget Brewster (there has been all season), but Jimmy and Sara's exchange at her house isn't given enough time to breathe before loud-mouthed Ronnie runs inside and starts complaining, which is followed by another under-cooked story decision as he admits to Jimmy that he wants what he has: a family.
In fact, pretty much every interaction between Jimmy and Ronnie feels forced and awkward; there's no sense of true, authentic friendship anytime they're on screen together, and their little rituals (such as their weird touching of foreheads) are so obnoxious that it makes both of them unlikable. It's as if Grandfathered expected us to be so pleased with a mini Full House reunion, or remember that Stamos and Saget are friends offscreen, that we'd ignore the complete lack of chemistry and emotion in all of Jimmy and Ronnie's scenes.
Still though, there's some nice, albeit brief, moments throughout "The Sat Pack" that reminded me of just how good Grandfathered can be. Even though Frankie and Gerald's break-up was handled terribly (more on that below), Josh Peck continues to shine and was a lot of fun as Gerald recounted his sad story to all the women hanging with Jimmy and his friends. Also, Sara's text to Jimmy and their conversation (even though it felt rushed) were strong emotional scenes in an episode that didn't really have any heart in it at all. And even I'll admit that pretty much everything involving Jimmy and Edie, from her nickname for him to their bath time together in the episode's final scene, was quite adorable.
However, those minor enjoyments couldn't make up for what might have been Grandfathered's most disappointing episode yet. As I said in my review last week, I hope that the show can rebound quickly, because it can be a really solid comedy when everything's working right. I just want the show Grandfathered was in its final episodes of 2015 to be back on my screen as soon as possible.
Other thoughts:
Gerald and Frankie's break-up was so abrupt and felt so tacked-on to what was happening with Bruce and Sara that it just made me frustrated. Why can't Gerald have a healthy, strong relationship that doesn't involve Vanessa for more than an episode of two? Also, what a waste of Lyndsy Fonseca.
Speaking of Vanessa, Grandfathered needs to find a better way of incorporating her into the show's A-stories more often. Her subplot in tonight's episode barely even registered.
Grandfathered writers, please, please, please give Ravi something better to do than idolize Jimmy. It was never fun to begin with it, and it's only gotten worse. Literally anything else would be better.
The recurring joke about who was running the restaurant was fun, and it had a really nice payoff at the end.
What did everyone else think about this week's episode of Grandfathered? Were you as disappointed as I was? Am I being too harsh on the show? Comment below and let me know.
[Photo credit: Jennifer Clasen/FOX]
Grandfathered Season 1 Episode 11 Review: "The Sat Pack"
Summary
Bob Saget and John Stamos reunite in a lackluster episode of Grandfathered.