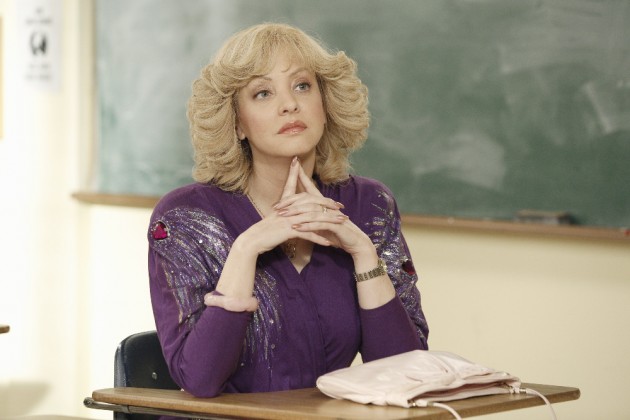 The Goldbergs, like I mentioned last week, has definitely been on a real hot streak lately, and it's extremely clear that the show has found its footing in its second season. As expected, "I Drank the Mold" continued this great run of episodes that we've gotten accustomed to.
The main story of the episode deals with the emergence of the CD and Barry and Erica deciding that the family needs a $900 CD player. Barry thinks that he can convince Murray to buy a CD player, but Murray reminds them that they always have new "things" (hockey, karate, etc.) in their lives and that this CD player is not the end-all and be-all that they are making it out to be. However, he relents that he will buy his children the CD player if they are able to write "the greatest song in the world."
To write this song, they try to figure out what the greatest songs are about. Pretty quickly, they settle on writing a song about love (instead of mill work, as Barry initially suggests). I have to say, "Love Ninja" is a pretty great song title, and they surprisingly have the right ideas with the concept. They premiere the song for Pops, with Erica on the keyboard and Barry, obviously, rapping. To their dismay, Pops just does not like the song. He reminds them that Murray doesn't really like music, though, and they decide that they can just steal a song and tell him that they wrote it because he is a "blank slate." Unfortunately, Murray recognizes the song that they choose and decides that there will be no CD player in the house. The kids are convinced that Murray just doesn't understand music, but Pops tries to explain that Murray just didn't have time for music as a kid because of the things that he had to sacrifice. They decide to sacrifice and sell a lot of their own things in order to buy a CD player for Murray so that he can enjoy himself. He realizes it is a "self-gift," though, and says that the kids can't use it. This lesson backfires, though, as he ends up just insulting and offending Erica and Barry. In the end, he gives the CD player to his kids.
The second story in the episode concerns Adam's birthday. Instead of partying with his mom, Adam just wants to spend the day at the arcade as birthday parties are no longer "cool" to him. Nevertheless, Beverly surprises him with a slumber party with his friends in the basement. To Adam's shock, his friends seem to actually enjoy the party because they are treating it as more of a "sleepover" than a slumber party. To do this, one of Adam's friends brought a grownup ice cold beer (served warm). The friends decide to all drink, but everyone begins to vomit before Adam takes his first sip. As his friends throw up (including Dave Kim in the washing machine), Beverly comes downstairs with a clown and a birthday cake. Adam decides to lie to her, but the beer bottle falls out of his jacket and onto the floor in front of her.
A few days later, the parents of all the kids are at a meeting at the school to talk about what happened (and Beverly obviously blames all of the other parents). The parents all begin finger-pointing at each other, and everyone decides that the sleepover was the last time the kids can hang out together. Adam tries to talk to his friends at lunch, but nobody acknowledges him. He confronts Beverly when he gets back home, but she is just as convinced as ever that he is a good kid. To prove her wrong, he decides to "drink the mold" by getting the near-empty beer bottle from the trash (and immediately throws up). The next day, Beverly talks to the parents again and tells them that the kids should be friends again. She comforts Adam later on, giving him quarters to take to the arcade as he had wanted to begin with.
Beverly's realization that the kids are just growing up and learning along the way is a really huge character moment for her, and I can't wait to see what (if anything) happens with this later on. Wendi McLendon-Covey continues to dominate in this role. I really liked Adam's realization in the end that he does still need his mother, even if he is growing up. The CD player storyline sort of kept Murray a bit sidelined for a while, but it made up for it at the end with a really strong moment with the kids when he gave them back the CD player. Overall, this episode of The Goldbergs once again continued the great stretch of episodes that we've gotten lately, and the character beats here were just as good as they've ever been.
Additional Thoughts:
– "I can't wait to go home and throw away my hundreds of useless cassettes!" – Erica, the first time that she sees a CD
– Barry calling the store employee "Sam Goody" was a perfect character moment for him.
– "Slumber parties are for little kids with sleeping bags, but at sleepovers, we break all the rules." That's the absolute best description of the change in sleepovers as kids grow up that I've heard in my entire life.
– "Exactly! It's a battlefield, and you've got to crush your enemies like a ninja!" – Barry agreeing that love is a battlefield (same, Barry, same)
– Can I get "Love Ninja" for my ringtone?
– "Your Song" was an absolutely delightful choice for the kids to try to fool Murray with.
– "Those kids are angry! I don't know what about, and I don't care, but I'm on board!" – Murray listening to rap music for the first time (same, Murray, same)
– Hayley Orrantia has a phenomenal singing voice. That is all.
– Pops was kept pretty small again this week, so I'm hoping that he gets a larger role during the final episodes of the season.
[Photo via ABC]
Tell us what's wrong with this post? How could we improve it? :)
Let us improve this post!