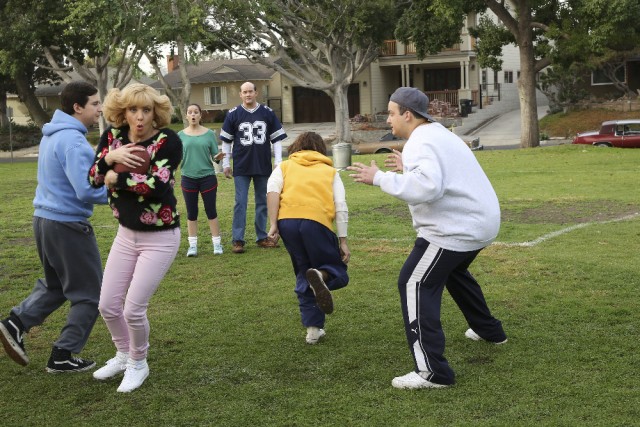 Last week's return of The Goldbergs proved to be just what we needed after the coldness of the holiday hiatus, so let's see if this week's episode holds up by taking a look at "Double Dare."
The main story in the episode is the fact that Double Dare, the Nickelodeon game show that was incredibly popular in the 80s, is going to be hosting auditions at the local school. Adam and Emmy, huge fans of the show, decide to try as hard as possible to get selected for the show. They plan to team up, but Dave Kim makes Adam realize that Handsome Ben has a much better shot than he does with his looks and voice, so Adam instead picks Pops as his partner. Emmy reacts to the news about as well as you would expect, and she secretly partners up with Handsome Ben, Adam's lifelong rival, to get back at him. Adam and Pops' audition goes poorly, to say the least, and Emmy and Handsome Ben's ends up being pretty remarkable. It turns out, though, that Emmy had partnered up with Handsome Ben months before, and she had been torturing Adam for no reason. After neither friend makes it to the show, the realize that they were both at fault and make up.
There's a lot going on in "Double Dare," and our other story deals with the fact that the Philadelphia Eagles are losing, and Barry and Murray deal with the situation in their own ways. After a mishap involving hot nacho cheese on a run, Barry becomes completely convinced that Beverly is their good luck charm (much to Murray's chagrin). To help keep from making her husband angry during the games, she ends up recruiting Bill and Erica to teach her the rules of football. Murray ends up hurting his wife's feelings since he never really wanted her to watch the games with him, and he shows her how much he really does appreciate her by learning to scrapbook.
"Double Dare" was a fantastic episode of The Goldbergs that tied in a few great concepts that helped show the power of teamwork in both a friendship and a family. Getting to see one of my favorite game shows represented on one of my favorite sitcoms was also a huge treat.
Other Thoughts/Favorite Quotes:
"Nothing wins people over more than adorable old man!"
"Hey, Hugh Hefner! Cover your downstairs; you're in school, not the grotto."
The nacho truck is a spectacular idea that more people should use.
"That Vanna White sure can turn a letter! Hah hah!"
I love the dynamic between Adam and Handsome Ben. In a lot of ways, it reminds me of the one between Jerry and Newman on Seinfeld, and that's definitely a good thing.
"It's ok, I've always got a rag. It's a mom secret."
Beverly's questions about football are so perfectly fitting for the character.
Holy cow, Jeff's love of Erica is SO PERFECT.
Dave Kim is very quickly becoming my favorite side character. "Dave Kim, always a bridesmaid."
The reveal that the two Double Dare casting directors were the real Ben and Amy was a fantastic moment.
What did you think of this week's episode of The Goldbergs? Let us know your thoughts in the comments down below!