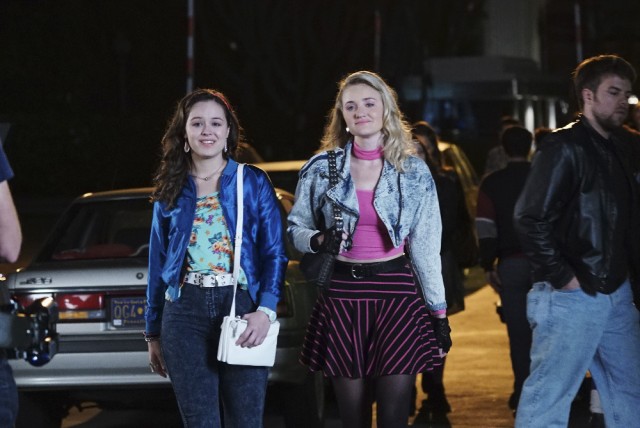 The Goldbergs has always done a great job at showing us what it's like for this family in real-life situations, and one of the biggest things in the lives of a family is getting a pet. Let's take a look at how The Goldbergs handled this in "Lucky."
As I mentioned, the main story in "Lucky" deals with the family getting their first dog after Barry discovers that he isn't violently allergic to dogs as Murray had led him to believe throughout his life. Murray had told him that in order to keep Barry from asking for a dog as a kid, and Barry is now determined to get the four-legged companion he's always wanted. While Murray still isn't happy about it, Barry ends up wearing his father down enough to where he allows his son to get a dog, and he comes back from the pound with Lucky, their new pet. Things don't go as planned for Barry, though, when Lucky ends up liking the rest of the family more than she does Barry. To win the dog's affection, Barry decides to challenge Murray for family dominance. After seeing how much Murray actually loves Luck and realizing that a dog isn't quite as important to him as it would have been when he was a kid, Barry finally agrees to share Lucky's love with his dad.
Elsewhere, Erica and her friends are getting ready for their annual pajama party to watch Troop Beverly Hills. Unfortunately for Beverly, though, Erica now considers herself too old to let her mom join in on the fun. Adam's friends convince him to film the party so that they can discover "the secrets to womanhood," but Beverly discovers it before they can watch for very long. However, instead of stopping the filming, she decides to watch the live feed so that she can join in on the fun again. Erica finds out about what her mother is doing, though, and starts giving her the cold shoulder because of how angry she is at her mother spying on her. Mother and daughter end up grounding each other from themselves, which Erica thinks will be no big deal at all. She and Lainey end up getting arrested at a concert, though, and, after Pops ends up being no help, Beverly is forced to come to the rescue. Seeing what can happen without her help, Erica finally admits that she needs her mother in her life.
As usual, "Lucky" was a great episode of The Goldbergs that continues this season's run of solid episodes. Everything about this season has been wonderful, and I'm so happy that this is a show we get to see on TV each week.
Other Notes/Favorite Quotes:
"Your sister is having her friends over for a lingerie party!" "I think I heard pajamas." Dave Kim is my favorite.
"They're like the kittens of dogs!" – Barry explaining puppies in the only way possible.
"Everyone's happy but me. Seems right." – Murray knowing his place.
"Nature is an idiot." – Barry, saying what we're all thinking.
I really need to eat Beverly Goldberg's 7-meat meatloaf.
I love that Barry doesn't know his dad's middle name.
Pops' "normal" voice is perfect, and I wouldn't mind if he were my grandfather.
The home movie segment at the end of the episode is one of the best that The Goldbergs has ever used. As great as this episode was, the home movie may have been even better.
What did you think of "Lucky"? Let us know your thoughts in the comments down below!
[Photo credit: Danny Feld/ABC]