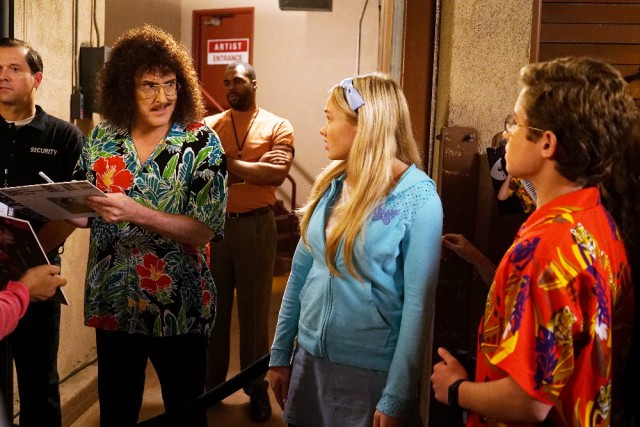 Ever since it was announced a few weeks back that The Goldbergs was going to feature Weird Al guest-starring as the 1980s version of himself, I've barely been able to contain my excitement. At last, that episode finally aired tonight, so let's take a look at this week's new episode (Season 3, Episode 15), appropriately titled "Weird Al."
The main story in the episode, obviously, revolves around Adam's love of Weird Al Yankovic and the way in which the musician inspired him in comedy. Luckily for Adam, Weird Al is set to perform in town, and the kid decides to surprise his girlfriend Dana with tickets. When she gets in, though, the young couple begins to realize that the things that they used to love doing together no longer mean as much now that they're growing up. Adam's surprise concert tickets amplify this, and it starts to seem like there's no way they'll be able to reconcile their new stages of maturity with their love for each other. Beverly realizes how much Dana means to her son, though, and she does whatever she possibly can to try and get the two back together after they "split." It doesn't really work, but the two end things on their own terms in a good way as they say goodbye and agree to grow up.
"Weird Al" is a jam-packed episode, and the second story here deals with Barry and Erica signing up for the school's new peer counselor program. The siblings butt heads over the best way to counsel, and the end up convincing each other that Murray is suffering from depression. The make a bet over who can "cure" their father first, and both make their best effort at making the depression better (including hypnotism and puppets). Nothing seems to work, so they call in their teacher in order fix their dad, but it ends up just showing them that Murray isn't as depressed as they thought.
"Weird Al" could have been a one-off episode that took a fun concept and made that the joke, but it ended up being surprisingly touching and an important part of the "history" of Adam and the Goldberg family. Throughout these first three seasons, a lot of The Goldbergs has dealt with Adam falling in love with his first real crush, and we in the audience became heavily invested in the relationship. It was always pretty obvious that, with them being so young, it wouldn't work out in the end, but the show did a fantastic job at capturing the emotion and heartbreak that all of us go through at some point in our lives. In addition, as expected, "Weird Al" did a fantastic job of including the titular guest star in the action, and his conversation with Beverly was one of the highlights of an already phenomenal episode.
Did you think that "Weird Al" lived up to the hype? How do you think The Goldbergs handled the situation? Let us know all your thoughts down below!
Tell us what's wrong with this post? How could we improve it? :)
Let us improve this post!