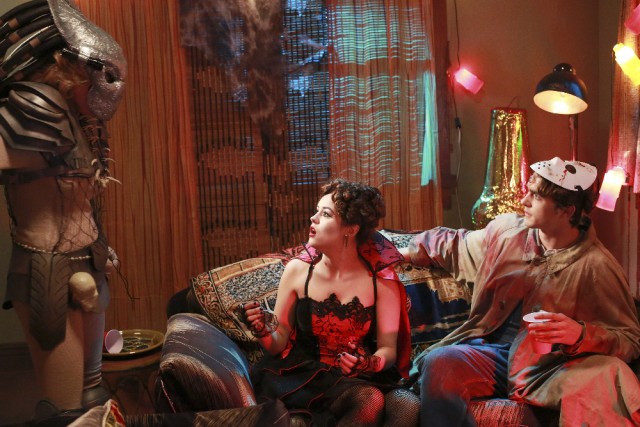 One of my favorite things about family comedies is seeing what it's like for the characters around a holiday, so let's see what The Goldbergs did with this season's Halloween episode, "Couples Costume."
The main story here deals with Adam wanting to spend Halloween with his girlfriend Dana (who is in town from Seattle) instead of his mom, something Beverly is not at all happy about. Instead of going trick 'r treating, though, they decide to go to a haunted house (after Erica and Barry convince Adam that Dana will want him "to protect her"). Unfortunately, Adam is much more scared than Dana, and he uses her as a human shield in the haunted house. As if this weren't bad enough, she loses her promise ring inside. Being as scared as he is, Adam doesn't want to go back inside to get it, so Dana goes home (clearly annoyed by her boyfriend). To get the ring back and help make his girlfriend happy again, Adam recruits his siblings to go with him to the haunted house and go on a search. Erica and Barry end up ditching him inside, though, and he ends up having to try to find the promise ring himself. With some help from his mother, Adam finds the ring after realizing how good of a team he and Beverly make.
Also in "Couples Costume," the rest of the Goldbergs tries to get in the spirit of the season. Pops spends the night passing out candy (and not at all recognizing the costumes the kids wear), but Beverly thinks that he accidentally gives away her razor candy. Being the woman that she is, Beverly goes and takes the candy from all the kids in town from the street. This leads to an egging from the neighborhood kids, and Beverly is "forced" to teach them a lesson (while still wearing her Predator costume). Beverly, essentially, kidnaps the kids to lecture them, and Murray is forced to jump in and make the situation better. His wife finally reveals that Adam's growing up and relationship with Dana is what caused her to go nuts, so he puts together a quick couples costume to share in the holiday with Beverly now that her kids are older.
"Couples Costume" was an absolutely hilarious and sweet episode of The Goldbergs, and it was exactly what a Halloween episode of this show needed to be. This season of The Goldbergs has been hitting every mark perfectly, and I'm so thankful that we get to watch this on television every week.
Other Thoughts/Favorite Quotes:
Adam and Dana's Xenomorph/Ripley couples costume was fantastic, but Beverly's Predator really rounded the whole thing out in an amazing way.
Speaking of Beverly, I love her razor in candy.
"Besides being a symbol of our love, that ring really makes your eyes pop." That's he best compliment anyone has ever received while wearing a Green Lantern ring (me included).
Spider-Guy, Strawberry Flapjacks, and Herman the Frog (Wakkety-Wakkety!).
The Predator vs. Alf sequence is my everything.
"You were a terrible brother! But I love you!"
"Your wife's nuts, dude." "Oh yeah!"
What did you think of the Halloween episode of The Goldbergs? Was "Couples Costume" one of your favorites of the season? Let us know your thoughts in the comments down below!
[Photo credit: Ron Tom/ABC]
Tell us what's wrong with this post? How could we improve it? :)
Let us improve this post!