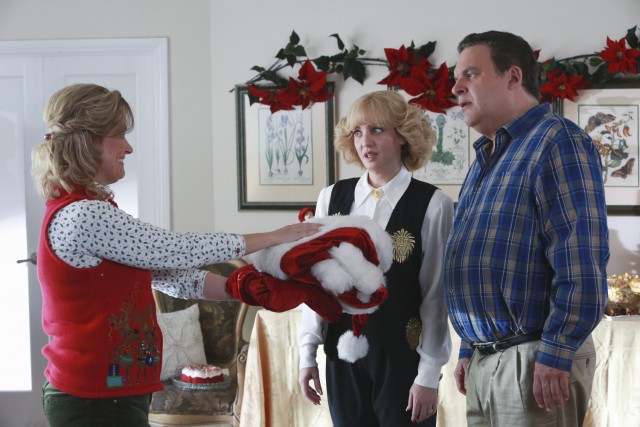 We've already gotten a couple of great holiday-themed episodes of The Goldbergs, so let's jump in and take a look at this week's edition, "A Christmas Story."
The main thing happening in the episode is the family celebrating their annual Hanukkah. Other than Beverly, though, none of the family can ever get into the holiday, and it only becomes worse when the Goldbergs visit their friends and see how they celebrate Christmas. In order to get the family back into the holiday spirit, Beverly decides to spice up their Hanukkah by celebrating Super Hanukkah. The catch is that Super Hanukkah is, essentially, Christmas. Things work out perfectly for the family, and everyone loves the new holiday. Everyone, that is, except for Pops. The voice of reason, Pops tries to remind everyone that Christmas traditions are not at all relevant to the cultural experience that Hanukkah is for a Jewish family.
I'm not going to spoil the rest of the events of the episode because I think that it will work best when you see the events as a viewer rather than read about them. Essentially, though, "A Christmas Story" managed to be one of the better "Christmas" episodes on television in quite a while, and it made an important point about showing what holiday traditions really should be for a family, even if these traditions happen to feel stale or uninteresting. While not everyone gets the luxury of spending their Christmas or Hanukkah or what-have-you with a large family, these holidays do mean something real to a lot of people, and it's just as important to recognize what they mean to those around you as it does to yourself.
For the past three seasons, The Goldbergs has done an incredible job of showing us what real families go through together, good or bad, and it's managed to be perfectly relatable even through the lens of taking place in "1980-something." "A Christmas Story" is no exception to this, and I have a feeling this episode will become one that many of today's families end up watching as an annual tradition. This season of The Goldbergs has been absolutely phenomenal, and it's great that we still have over half of it left to watch.
Other Thoughts/Favorite Quotes:
Of course A Christmas Story is Adam's favorite holiday movie.
"In your face, mustard and jams!"
I really love the idea of Jewish Murray being Santa for a family that isn't his.
Ball ball returns!
I wouldn't mind Hanukkah Harry bringing me gifts to place under my Hanukkah bush that's decorated in blue and silver.
Shoutout to Adam's Revenge of the Jedi shirt.
The storyline of Lainey's role in Barry's life and the changes it caused between Adam and his brother was really fantastic. It was the episode's B-story, but I didn't talk about it in the main review because I wanted to keep the focus completely on the holiday. It was very well done, though.
What did you think of "A Christmas Story"? Let us know your thoughts in the comments down below, and we'll see you back here when The Goldbergs returns in a few weeks! Happy Super Hanukkah!
[Photo credit: Ron Tom/ABC]
Tell us what's wrong with this post? How could we improve it? :)
Let us improve this post!