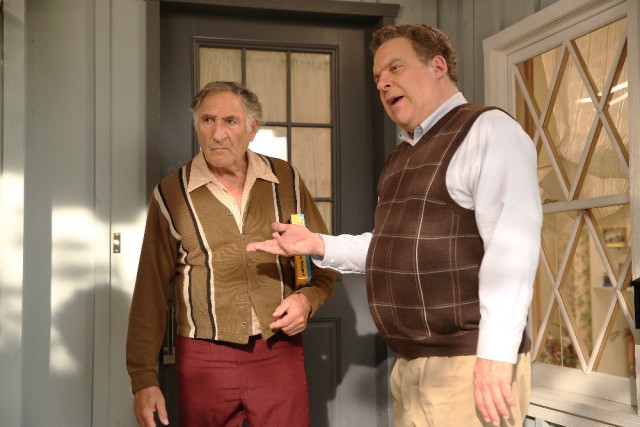 I'll admit it: I'm a sucker for holiday-themed episodes on television, and I'm a sucker for The Goldbergs. Combining those two things have often been a recipe for success in the past, so let's take a look at this week's Thanksgiving episode of the series, "In Conclusion, Thanksgiving."
The main thing going on in this episode, of course, is the family Thanksgiving. Beverly has decided that this year will be the one that has Murray's dad finally come over for the holiday dinner. Surprisingly, though, this isn't because she wants his dad to share in the holiday — it's to prove to him that she's a good cook (after a bad time the last time he had her food). Adam, at the same time, realizes that he can use "Cat's in the Cradle" to manipulate Murray in order to get things he wants, so he obviously wants to use this knowledge to his advantage. When Beverly finds out about this, though, she makes Adam use the song to convince Murray to invite his dad over. Murray does, of course, but Marvin pulls a reversal and un-invites their father before dinner. Not giving in, Murray leaves the house to go get his dad. The whole family finally gets together, and each member of the patriarch's family realizes that they have very different thoughts on the meaning of that song. The ensuing argument leads to Murray throwing his back out, and Marvin (now trying to be a chiropractor) has to come to his brother's rescue. The family ends up coming together to share a great holiday together.
Elsewhere, but keeping with the holiday spirit, Pops wants to pass down the Thanksgiving toast to the next generation. He picks Erica, as he thinks she's the best option to continue the tradition, but Barry decides that he wants a shot at it, too. Barry isn't that good with words, as we've learned, so he gets some advice from his uncle for how to make things better. When it comes time for the toast, Barry goes all out with his presentation to deliver one of the most intense toasts in the history of the holiday. The family ends up absolutely loving the toast, and Erica is forced to rework her attempt before it's time to give it. She finally tries to copy Barry's style, but things completely fall apart. In the end, Erica gives the most appropriate toast that this family has ever seen.
I can't remember the last episode of The Goldbergs that I didn't enjoy, but "In Conclusion, Thanksgiving" really worked on every level. This is exactly what a Thanksgiving episode of a sitcom needs to be. It hit every cliché and trope in the world, but it did it with a heart and style that few other shows can do.
Other Thoughts/Favorite Quotes:
I love Beverly's test turkeys.
"Your turkey was drier than the sun…I didn't enjoy the meal."
"I was basterless!"
I love when Murray's brother shows up, and his appearance in this episode was as great as ever. If he could just pop in all the time to massage Goldbergs, I'd be fine with that.
"Saying words good is my specialness."
Beverly's perfect threat is for Adam to have to play catch with his dad.
Murray and Marvin really shine whenever they argue, just like any real-life brothers can.
We found out where Murray gets his pants-dropping from, and I wouldn't have it any other way.
That final little moment between Murray and Beverly before dinner was one of the most heartfelt ones that the show has ever offered.
As always, I loved getting to see Erica sing. Hayley Orrantia is such a talented performer.
What did you think of "In Conclusion, Thanksgiving"? Aside from The Goldbergs, what are some of your favorite holiday episodes of a TV show? Let us know in the comments down below!
[Photo credit: Adam Taylor/ABC]
Tell us what's wrong with this post? How could we improve it? :)
Let us improve this post!