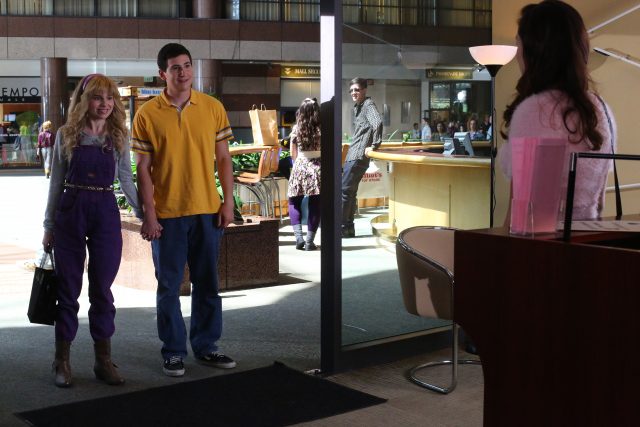 One of the not-so-secret weapons of The Goldbergs is its sometimes unique ability to show us life from a time before the present, and it's able to do so through stories that feel absolutely true to life. Among these stories is, of course, romance, and the show is tackling the issue again in a big way with this week's new episode, "I Heart Video Dating."
The main story in the episode concerns video dating, a completely 80's method of finding your soulmate (though you'd probably have better luck with that than with Tinder, AM I RIGHT MILLENNIALS?). After hearing about it at the mall, Lainey realizes that it's time to get her dad, Bill, back out in the world by using video dating. Beverly, on the other hand, wants to play matchmaker in person, but Bill really doesn't want to be involved in either situation. My favorite part of the whole thing is the fact that Erica's reason for getting involved is completely because of her feelings for Jeff (as I've said many times that I love that particular relationship), but the on-screen pairing of the three women and Bill ends up having so many fun moments (including everyone finding out about what Pops has been doing with his evenings). The storyline really does end up being about Erica in a lot of ways, and it's clear that her growing feelings for Jeff are going to play a huge part this season.
Elsewhere, Barry is trying to figure out what he's going to do with the rest of his life after he finishes school. The career test doesn't help him at all, but a chance moment in gym class makes him decide that he wants to become just like Coach Muller. Bryan Callen is always so good when he appears on The Goldbergs, and I've really enjoyed seeing the evolution of his friendship/mentorship with Barry over the course of the series. Unfortunately for Barry (and Coach Muller), Murray doesn't think that his son's path is that of a gym teacher, and it leads to a nice bit of tension between Barry's "two fathers." Everything works out in the end (as it should), but it seems to cement that Coach Muller is more important to this family than any of them could have expected.
The Goldbergs frequently charms us with the way that it depicts relationships, but this week's episode did an above-average job (which is really saying something for this show) in both of its stories, showing perfectly real and relatable relationship exploration in many different aspects of life. Erica's near-breakdown at the end of the episode was an outstanding moment of emotion for both the character and Hayley Orrantia, and it continued to hammer in the perfection of this family comedy.
What did you think of this week's episode of The Goldbergs? Let us know your thoughts in the comments down below!
[Photo Credit: ABC/Michael Ansell]
Edit: It took me until the end of this episode to realize that I've been spelling Geoff the wrong way for about three years, but I'm not going to start changing it until the next episode so that we can all experience my shame.
The Goldbergs Season 4 Episode 2 Review: "I Heart Video Dating"
Summary
"I Heart Video Dating" charms with its depiction of different types of relationships throughout life.