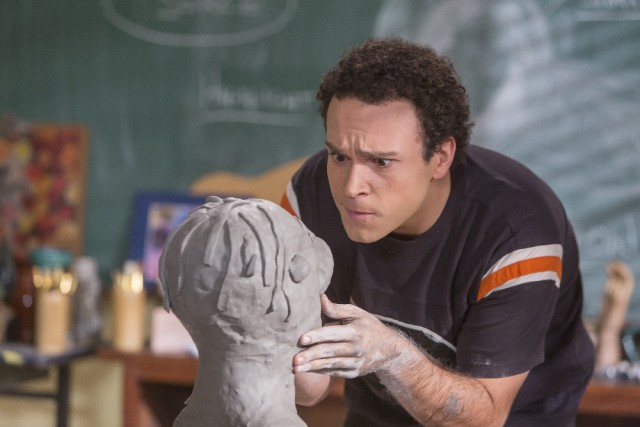 At long last, The Goldbergs finally returned from its winter hiatus to entertain us even more. Let's take a look at what happened in this week's episode (Season 3, Episode 14), titled "Lainey Loves Lionel"
The main story in the episode deals with the fact that Beverly, the mother that she is, refuses to give Adam permission to go see Porky's after it comes out in the theater. The solution that Adam and his friends (including Dave Kim!) come up with is to buy tickets for Annie and sneak into Porky's when they get inside. Adam chickens out, though, and sees Annie alone. His friends don't let him live down the fact that he didn't see the more mature movie, and Adam's refusal to break rules begins to get under even his father's skin, and Murray helps Adam sneak into the movie. Somehow, though, Beverly finds out that he's there, and Adam's mother severely punishes him. Adam's all about breaking rules at this point, though, and he heads to the airport to buy a ticket to Seattle to see his girlfriend Dana alone. The possibility of turbulence freaks him out before the plane gets there, and his return home causes an argument between Beverly and Murray about how to raise their maturing son. In the end, Adam breaks the rules to talk to his girlfriend on Valentine's Day, and Beverly concedes that her son's rule-breaking isn't always going to be a bad thing.
Elsewhere in the episode, Lainey begs Barry not to make a big deal out of the upcoming Valentine's Day. We all know how Barry is, though, and he doesn't listen to his girlfriend or his sister, and he decides to play into Lainey's love of Lionel Richie by making a clay bust like Lionel does in his song "Hello." The resulting "masterpiece" is horrific, of course, so he attempts to learn Lainey's face through touch rather than through sight. He still can't figure out how to properly sculpt her face, but things turn out well between the two when she sees how much he was willing to do just to make her happy.
I'm not going to say a ton about it, but the Jeff/Erica storyline in "Lainey Loves Lionel" was wonderful. I've been talking all season about how much I've enjoyed seeing this "relationship" develop, and this episode propelled it forward even more. I absolutely can't wait to see more evolution here, and I'm so glad the writers are committing to it.
It's been so weird not having The Goldbergs on TV each week, and I'm so happy that the show's returned from its hiatus. "Lainey Loves Lionel" was an unsurprisingly great episode, and the third season of this show is really shaping up to be something very memorable.
What did you think of this week's new episode of The Goldbergs? Let us know your thoughts in the comments down below, and be sure to tune in next week for another review after the new episode!