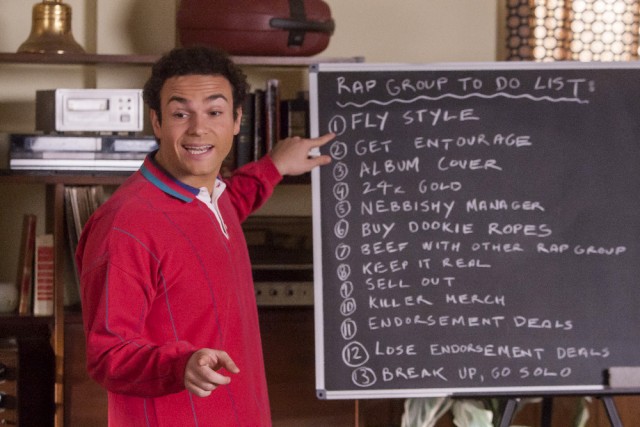 After too many weeks off, The Goldbergs finally returns to continue one of the strongest comedy runs ever on television. Let's take a look at this week's new episode, "The Tasty Boys."
The main story in the episode deals with Adam and Barry's love of the Beastie Boys. Because of the love and respect that Adam has for the famous group, Barry decides to invite his little brother to join his own group, the Tasty Boys. Erica attempts to convince her brothers that this is a bad idea, but they misinterpret her critique and instead hold auditions for a third member to the group. She continues to try and discourage her brothers, but this just turns into the group shooting an album cover and booking a gig (before actually writing any songs). When it finally gets time to perform, though, they realize that everything is a mistake and that they are not at all what they've convinced everyone they can be. In the end, the three Goldberg siblings lip-sync to actual Beastie Boys music to the crowd, and it ends up being a blast for everyone.
Elsewhere, Beverly experiences her neighbors' new kitchen, and she decides that it's time for the Goldbergs to renovate their own. As expected, Murray is completely against the idea since he doesn't at all like change. Beverly doesn't let her husband get away with this line of thought, though, and becomes determined to renovate the kitchen herself. This, obviously, ends in disaster, and Murray gives in and agrees to fix it himself. Little does he know, though, that his wife screwed the kitchen up on purpose in order to give him the nudge he needed for change. He ends up figuring out Beverly's plan and "wins" this battle by returning the kitchen to its exact original state. Murray underestimated the effect this win would have on his wife, unfortunately, and he finally lets her have a small change by adding a Lazy Susan to the kitchen.
Season 3 of The Goldbergs seems to be doing more themed and concept episodes than before, but they've all worked extremely well so far. The great thing about homage episodes like "The Tasty Boys" is that, on this show, they never feel like a cash-in or an attempt at boosting ratings. The heart and emotion, along with the knowledge of Adam F. Goldberg's reality, that go into these episodes really help sell the idea and let the audience witness real family experiences on their television. The Goldbergs has had some lighthearted drama during its run, but it's such a breath of fresh air to get to see a family on television that feels real without dragging you down to a dramatic level. I've said it many times before (and I know I'll say it many more times), but The Goldbergs continues to be one of the best, if not the best, family comedies in television history.
Other thoughts:
I want to copy Barry's License to Ill.
I loved Beverly's immediate reaction to the word "ill."
PERFECT way to create that fisheye lens effect, Adam!
Jeff's (possibly) unrequited love for Erica is still one of my favorite additions to this season, and I hope the writers feed me more and more of this over the remaining episodes.
What did you think about "The Tasty Boys"? Let us know your thoughts in the comments down below!
[Photo credit: Ron Batzdorff/ABC]