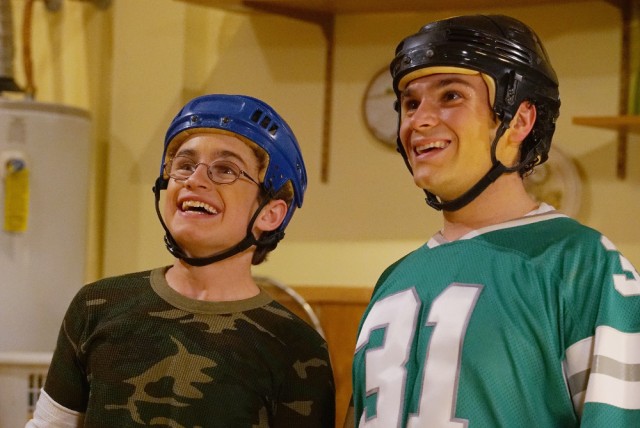 One of my favorite little subplots on The Goldbergs (as I always mention in reviews of episodes that include it) has always been Adam and Barry's invented game of "Ball Ball," a tradition among the brothers that has slowly grown to add other Goldberg friends and family members. In tonight's episode (Season 3, Episode 16), Ball Ball is finally back, so let's take a look at the episode, titled "Edward 'Eddie the Eagle' Edwards."
As you can tell by my intro, the main story in the episode deals with Barry, the best athlete in the Goldberg family, wanting to earn some more respect after he realizes that Adam may have built up his ability to be more than it really is. The story of Eddie the Eagle inspires him to new greatness, and he enlists the help of his siblings to find the perfect sport for him to master. Nothing seems to be his "thing," though, until he remembers how "great" he is at Ball Ball. This sport isn't known to anyone outside of the immediate family and friends, so Barry starts up a Ball Ball club at school so that he can get more people involved. Unfortunately, this results in him banishing Adam from the sport they created together. Things still don't play out like Barry wants, but the end result of the experience is a great day that the two Goldberg brothers share through their own version of the Olympics.
Barry's expansion of Ball Ball isn't the only thing going on in the episode, though, as it turns out that Murray's furniture business isn't going as well as he's led Beverly to believe. When Beverly finds out and sees that Murray is never going to ask her for help, she decides to take matters into her own hands and tries to get him to sell futons, the new popular piece of furniture. Even though customers are all about futons, Murray is having none of it, leading to a rift between him and his wife. After a talk from Pops, though, Murray realizes that it's important for family to help each other out, and he decides to accept his wife's assistance in the business that her father started.
"Edward 'Eddie the Eagle' Edwards" was a strong episode of The Goldbergs, but it didn't quite match the greatness of the episodes that have come before it this season. Even a "weaker" episode of The Goldbergs is still a blast, though, and both plots of the episode worked extremely well. I loved how much the Ball Ball plot focused on Barry and Adam's relationship (even if it followed the same beats as the series frequently uses), and the furniture store story offered a good look into Murray's life outside the house.
What did you think of tonight's new episode of The Goldbergs? Do you want to go play a game of Ball Ball now? Let us know your thoughts in the comments down below!
[Photo Credit: ABC/Byron Cohen]