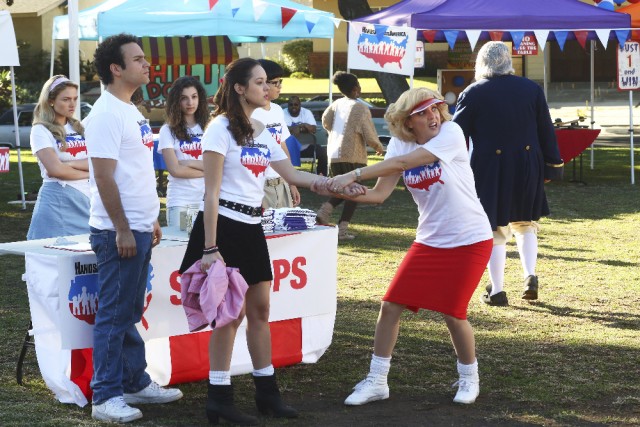 If you're anything like me, you can't see the above promo image without getting incredibly excited about what's to come, so let's take a look at this week's new episode of The Goldbergs, "Baio and Switch."
The main story in "Baio and Switch" deals with the "charity craze" that swept across the country. In the case of the Goldberg family, the charity featured is Hands Across America. Beverly decides to completely support the event once she finds out that newspapers will be taking photos, so she immediately heads to the school and takes charge. Barry and Erica want to opt out after they find out about their mother, but she lies and says that she got Scott Baio on-board to join in. In order to get as close to Baio as possible, both kids start fighting over her for her love. Beverly begins running out of ideas, knowing that failure would turn her kids away from her again, so she works as hard as possible to find a bigger celebrity to show up.
Elsewhere, it's time for a school dance, and Adam asks his best friend to go with him since Dana isn't in town to go with him. Unfortunately, Dana surprises him by showing up at his door (thanks to a mishap with her grandmother), so he's forced to figure out how to deal with this unexpected predicament. Even though his dad advises him against it, Adam goes with Pops' suggestion of taking both girls to the dance without letting them find out about each other. Adam, Pops, and Dave Kim work out a plan (with the help of Michaelangelo, Princess Leia, and the Hulk), but both girls end up finding out about Adam's lies (as Adam expected from his sitcom research).
Both storylines end up converging at the Hands Across America event as both Beverly and Adam finally understand their mistakes. Even though both Goldbergs attempted to make everyone involved feel special (with somewhat selfish undertones), neither were able to accomplish their goals without the help and advice of their family. Both stories didn't wrap up at the event, but I really did like how they met before splitting up again for their conclusions. It's something that The Goldbergs doesn't tend to do all that often, so it's extremely satisfying to see when it happens.
"Baio and Switch" was a delightfully charming episode of The Goldbergs, and that's really one of the best compliments that I can give it. It's such a relief to know that you can tune into a show and not have to worry about a mediocre episode, and I'm so glad that, three seasons in, The Goldbergs doesn't appear to be losing any steam at all.
Other Thoughts/Favorite Quotes:
My school participated in Jump Rope for Heart throughout my time in elementary school, so I definitely related to the theme of this episode.
I absolutely loved the gym class having to practice holding hands.
"I Brady-Bunched two ladies at a USO dance back in '41 — never felt so alive." – Pops delivering his allotted perfect line of the episode
"Nothing personal, you just make fun things suck." – Barry's oddly appropriate description of his mother
Dana and Adam really are adorable together, and I hope she remains a part of the show for a little bit longer.
What did you think of "Baio and Switch?" Let us know your thoughts in the comments down below!
[Photo credit: Michael Ansell/ABC]
Tell us what's wrong with this post? How could we improve it? :)
Let us improve this post!