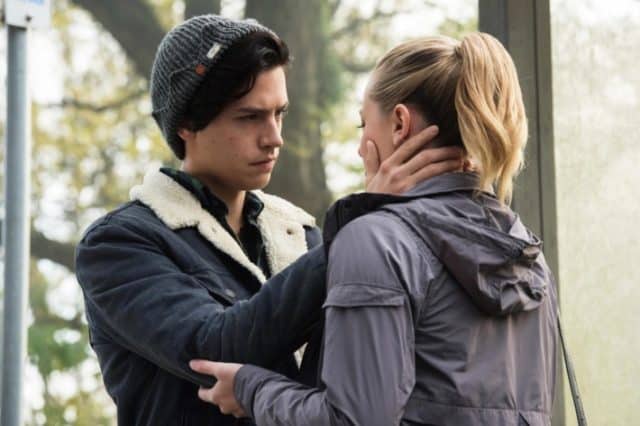 The 2016-2017 year was very busy for television! At times it was tough to keep up with, but we at TVOvermind were able to manage. What's more, we've come together to discuss the best, the worst, and the wacky that happened this year. Let's face it, love makes the world go round. Whether it's the bloom of young love or the dedication of couples who endure through time and difficult circumstances. The following couples not only made us smile this year, they made us truly believe in the power of a connection with another person.
Jasef Wisener – Betty & Jughead (Riverdale)
I don't really get into shipping characters on shows. There's nothing wrong with it, but it's just not my thing. With that said, I am ALL IN on Betty and Jughead's relationship. I know that a lot of Archie fans were upset about Jughead's lack of asexuality, but everything about this relationship has kept me intrigued. I can't wait to see how they play out in the second season, but I know that Cole and Lili will make the characters as engaging as ever no matter where Betty and Jughead go.
Araceli Aviles – Jack and Rebecca Pearson (This is Us)
One of the many reasons This is Us was such a huge success was because from the very start, the love between Jack and Rebecca was as clear as day. They are the perfect couple because in every episode we see how they love each other through their mistakes, as well as all of life's questions that come with time, children, and sacrifice. It's easy to love someone when you're young and life is full of possibilities. It's much harder to stay in love after life hasn't necessarily fulfilled those dreams. The couple seemed at their lowest point in the season finale when Rebecca asked her husband what he specifically loves about her now. His answer was raw, honest, and beautiful; which makes their story so much more emotional, because we know that it will come to an abrupt, tragic end.
Nick Hogan – Erica Goldberg and Geoff Schwartz (The Goldbergs)
I'm not a practicing shipper by any stretch of the imagination, but there are couples that I do and do not like. However, I've spent several seasons holding out hope for shy nice guy Geoff Schwartz to finally break free of his manipulative girlfriend and start a relationship with the beautiful, popular, musically talented Erica Goldberg. Season 4 finally gave me what I wished for, and gave all guys everywhere hope that maybe the nice guys don't finish last after all.
Blaise Hopkins – Josh and Lucy (Man Seeking Woman)
Man Seeking Woman came to an end this year with a third and final season. Like the title states, the show revolves around a young guy trying to navigate life and dating in your late twenties to early thirties. After so much failure and heartbreak, Josh finally connected with a great girl in Lucy, and the pair was phenomenal together. Although it would be amazing to get more time with this couple, the show did a great job of displaying how a balanced relationship should work and what it looks like when two people are completely in love with one another.
Tiffany Chang – Elizabeth and Henry McCord (Madam Secretary)
Apologies in advance to Olicity, Waige, and my beloved Deckerstar. I have to give this category to Dr. and Mrs. McCord. Most married couples on television and in real life don't last as long as them. They don't have any secrets between them and they work things out when the going gets tough. I love the fact that as stubborn as they both are, with each of them having their own opinions on certain things, they still love each other. These two are my ultimate relationship goal.
Chris King – Kevin Garvey and Nora Durst (The Leftovers)
"Why wouldn't I believe you? You're here." "I'm here." I can't stand here and say that the relationship between Kevin and Nora on The Leftovers is completely healthy; as viewers saw in the fourth episode of the show's amazing third season, the two of can say horrendously hurtful things to each other. However, in the world of The Leftovers, in a world where nothing is certain, everyone is broken, and the tiniest possibility of happiness is worth giving up everything for, connection is a very precious thing to have, and true love is even rarer than that. That's what makes Kevin and Nora's love story so beautiful, magical, and romantic. No matter what the world throws at them, they're here and they're together, and sometimes, just knowing that someone is there with you to hold your hand and believe the truth you're telling is all you need. Sometimes, that's enough.
Here's to another year of great couples to believe in.
Save
Tell us what's wrong with this post? How could we improve it? :)
Let us improve this post!