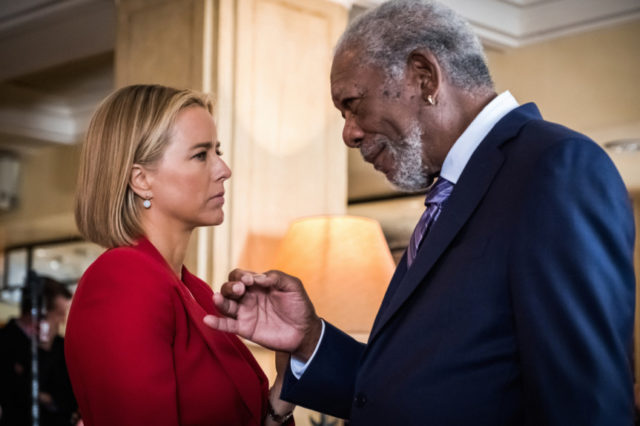 The premiere of Madam Secretary Season 4 definitely didn't disappoint. It contained some tense political moments deftly mixed with the everyday family moments that make the McCord family so heartwarming and memorable. The show follows the exploits of Secretary of State Elizabeth McCord (Tea Leone) who is only in office at the urgent request of her good friend, the POTUS Conrad Dalton (Keith Carradine). Her husband, Henry Mc Cord (Tim Daly), is a Professor-turned-CIA-analyst and their relationship is really fun to watch, What a power-couple and yet so warm and wonderful together!
All in the Family
So, on the family front, the McCord's youngest daughter, Alison (Kathrine Herzer) is headed off to college and Liz feels guilty because she can't be there for the transition since she has to attend the U.N. General Assembly. But on the very first day of the Assembly, a diplomat from a very tiny foreign country begs to meet with her to discuss something urgent, so of course, she takes the meeting. However, before the diplomat has a chance to tell her what he wants to talk about, he drops dead at her feet. The president of his country has his body released and sent home before an autopsy can be performed. So, nobody knows why he died.
Liz takes matters into her own hands and gives a sample of the man's blood to her brother for analysis. (He bled on her suit jacket when he died, in case you're wondering.) This storyline gives us a great opportunity to see more of Will Adams (Eric Stoltz/producer). He's such a great actor and never on the show quite enough. Probably too busy with his producing duties.
Social Media & Viral Lies
Meanwhile, social media erupts with a story that has gone viral about how the Secretary of State is a murderer. It's a typical social media frenzy, except for the fact that it's being led by one of President Dalton's political arch enemies. Liz needs to clear her name, not just for her own sake but for the sake of Dalton's presidency. And, the percentage of Americans who are more than willing to believe that their Secretary of State is a cold-blooded murderer just keeps climbing.
Poisonous People
Will reports back to Liz that the man was indeed poisoned and identifies the substance that was used. It turns out that this particular substance is used by only two groups, the Russians, and a major Mexican drug cartel. So, Liz and her staff, with Will's help, figure out that the diplomat was killed by the cartel as a means of protecting their headquarters on one of the islands of his country that their president had been forced to sell. The members of the cartel are arrested and Liz vows to help the president of their country with a little help from China, which of course Liz engineers.
What We Learned
We learned several things from the Madame Secretary Season 4 premiere. First, that social media in the wrong hands can do great damage even to the best of people. Second, we learned that the drug cartels have much more far-reaching power than most of us ever imagined. Next, we learned that dirty politics stink to the very top of government and that some people will do anything to cause Americans to lose confidence in their lawmakers. And, last but not least, we learned that Madam Secretary rocks!