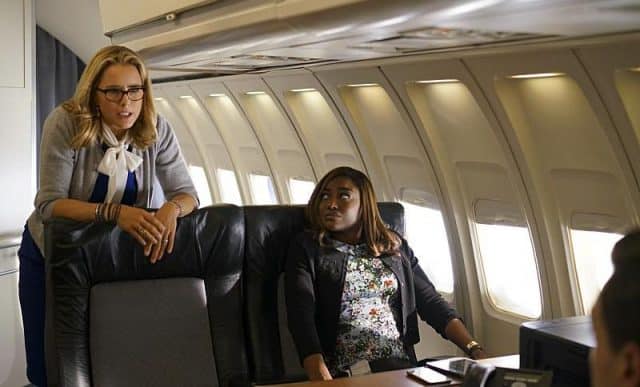 A fictional Secretary of State said that it takes real strength to be humble. Though on last night's episode of Madam Secretary, being humble is completely out of the question. Elizabeth, Blake, and Daisy along with Assistant Secretary Thompson, go on an official trip to Africa. It's to talk about bringing clean energy and allowing the young girls and women to get an education. When China got to Africa before Elizabeth and her team did, I wasn't too surprised, to be perfectly honest. That country would do anything to further their personal gains.
I totally applauded the personal win that Elizabeth scored for herself. Getting China to make a deal with Togo on condition that they agree to the African nations' ideals of a more efficient economy and educational rights for the female population. Sometimes, a win for yourself is better than getting one for everyone else. I also applaud that Elizabeth cooked something using the solar oven prototype that the African girls gifted her with.
The scene where Nadine took Matt to the Pentagon to get the spare engine shipped was awesome. It was interesting to learn that State officials have military rank. At first, I thought that Nadine was pulling a fast one on the Colonel. Then again, if she were making it up, Colonel Mckay would have corrected her outright. Nevertheless, Nadine managed to get the spare part (without having to call President Dalton to step in as referee). Yay for Nadine!
My heart almost broke when I watched the part where Assistant Secretary Thompson took Daisy to the slave fort. It was a truly powerful scene as waves of emotion washed over the two women. I'm glad to see them start to form a bond after the disagreement that they had at the U.S. Embassy. I chuckled at the Assistant Secretary's Nostrodamous comment to Daisy back at the embassy. That and where Henry got Jason and Alison to stop looking at their phones and have a decent conversation like a normal family. This should be a house rule: No phones at the dinner table!
In all, the Africa trip went well, but the dark cloud of another bomb still hangs overhead. After Henry and the FBI agent questioned another surviving member of the Covenant of John, the latter immediately called his cousin Ted. It turns out that the cousin has the second bomb that Rex Mayfield (the man who was apprehended by the FBI at the beginning of the episode) was planning on detonating. I knew that the Covenant survivor was sketchy!
Photo via CBS