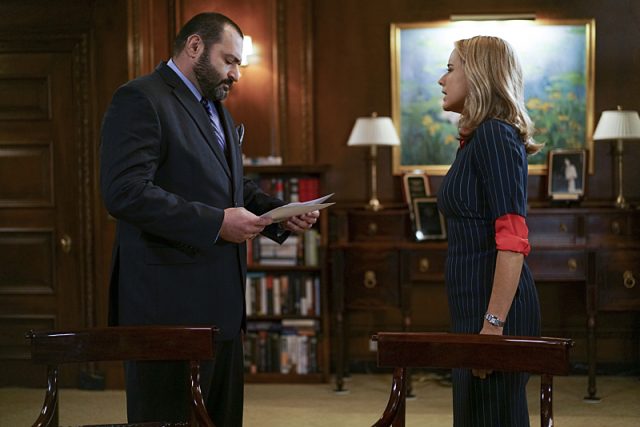 It's Election Night in tonight's episode of Madam Secretary. I have a feeling that it's going to be President Dalton for obvious reasons. I'm sure that the writers will make it tough for President Dalton to win another presidency. Reason being that there's no drama without suspense. I still don't know how it got to a three-way tie between Dalton and the other two candidates, but it is what it is.
The scene where Jason announced to his family his support for Fred Reynalds, I wasn't too surprised, to be honest. The youngest McCord child is nothing short of rebellious given that he has an opinion about everything. I almost applauded at the part where Henry talked some sense into his son for the latter's blind support of Reynalds. "Your knowledge is a mile wide and an inch deep. Do you know what that makes you? A poser. A dilitante." Harsh but true. Jason should look into the facts of things before he starts picking sides.
It was shocking to hear that Daisy had ended things with Oliver. It seems that neither of them wanted the relationship to go any further now that Oliver is relocating to California. That and Daisy has a job at the State Department. Perhaps she and Matt will someday get back together? It was blatantly clear that the speech writer still has feelings for her. I can only imagine the spike in his blood pressure as he watched Daisy leave with Win, the guy that arrived with Mike B. Speaking of Mike B., I can't believe that he and Nadine slept together. Must be all the alcohol that they drank the night before at the bar on election night. I also think that Elizabeth knows about it after she saw Mike B.'s dog sit near Nadine.
I enjoyed the scene where Blake and Daisy belted out a made-up song about the election and the fate of their careers like no one is watching. That and when Blake sang the chorus of Can't Take My Eyes Off You. As much as I enjoy listening to Blake sing, he doesn't quite measure up to one Lucifer Morningstar. Out of the actors that I have heard sing from the shows that I cover for this site, I can listen to Tom Ellis sing all day.
Okay, let's get to the other matter, shall we? The Russians wanted to expand their nuclear program and made a deal with Iran to ship centrifuges to them. Elizabeth managed to convince President Dalton to stop the ship from heading to Iran but killed a couple of Russian sailors in the process. The Russian U.N representative is not too happy about it as he is convinced that it's a conspiracy theory that the U.S. has cooked up. At least Elizabeth fixed the situation before it got worse. Though that ending was a nail-biter. The inspectors from the International Atomic Energy Agency (IAEA) were denied entry into the Iranian lab. The live-feed camera that was used to connect the U.S. was smashed, disconnecting the feed. As Happy Quinn would say: Not good.
Madam Secretary returns with all new episodes on Dec. 11 at 9/8c on CBS
Photo via CBS